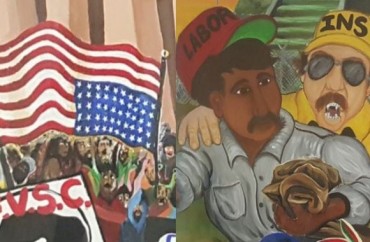 'A lot of Latinos are proud to call themselves American'
After recent media coverage brought to light a controversial Chicano Studies mural at California State University Northridge that features a fang-toothed border patrol agent with a club in his hand grabbing a migrant worker, an upside down American flag, and pro-abortion messages, some California Latinos are saying those images do not represent them.
A Latino professor at Cal State Northridge, as well as a Latino CSUN alumnus and a UCSB student born in Mexico, have expressed distaste at the images, saying they do not depict values they associate with their ethnicity.
"I could talk about specifics like the pro-abortion imagery or the stereotyping of Latino men as either ambitious orators or passive peasants, but my biggest problem is with the general premise," Cal State Northridge Robert Lopez told The College Fix.
Lopez also interviewed two other Latinos from Southern California who say they find the images – painted along a hallway in the largest building on the campus – offensive.
"A lot of Latinos are proud to call themselves American," James Lopez, a graduate of CSUN, told the professor. "It's just not fair that they try to paint the Latino community as being anti-American in that they are not respecting the flag."
The Cal State Northridge alumnus said the mural misrepresents Hispanics he knows.
"It's very extreme," he said. "From my understanding, not a lot of Hispanics would side with that mural. It doesn't represent us and it is not telling our story. It should be a flag in its rightful position, and I think it is very condescending to us."
Carlos Flores, a student at UCSB who was born in Mexico, said he particularity takes offense with slogans on the mural suggesting all Latinos are pro-choice. The mural, located in the building that houses the Department of Chicana and Chicano Studies, includes depictions of signs stating "reproductive rights now" and "Chicanos for choice."
"It's just a way to get Latinos and Chicanos invested in this leftist agenda of abortion rights," Flores said. "[Leftist scholars] play on the Latino part of the students who come here and say, 'You are being oppressed by the privileged whites so join our cause … you have common cause with other oppressed people such as women who do not have abortion rights so join together.'"
"Latinos have large families because family values are prized in Latin America … much importance is given to the family," he added. "So to suggest that abortion must be prized as a Latino value is not true."
Added James Lopez: "Hispanics in general tend to be more pro-life than any other ethnicity."
RELATED: University defends campus mural with upside-down U.S. flag, fang-toothed border patrol agent
The mural is located in a heavily traversed part of campus, and the Chicano studies department is described on the university's website as "the largest of its kind in the country, housing 25 full-time and 35 part-time professors. Between 160-170 class sections are offered every semester."
The Chicano studies department painted the mural in 1999 to commemorate its 30 year anniversary. University spokesman Jeff Noblitt previously told The College Fix in an email that the art "solely represents the views of the students who created it, not the views of the university."
"As a higher education institution, CSUN has a responsibility to encourage a wide variety of views and to be an educational and public forum for expression of divergent views, including those that some may find distasteful or unpopular," Noblitt had said.
Over the years, many veteran students have also found the image of the upside-down American flag offensive and disrespectful.
Following the negative publicity last month, the Chicano studies department wrote in a statement on their website that "the display of an upside down flag is a sign of distress as noted in Public Law 94-344 (July 7, 1976). The historical period during which the mural was created (1990s) was a time when Chicano/a-Latino/a students felt singled out by legislation directed at marginalizing them and their community. Lamentably, these themes are still relevant today."
Cal State Northridge's Professor Lopez told The Fix in an email that though the mural has been in place for seventeen years, the world around it has changed greatly.
"You have, on the one hand, national attention to campus movements like the 77 groups congregating at thedemands.com talking about hostile learning environments and hate speech, and they're gaining increasing success at silencing anyone politically opposed to them under the pretext of feeling offended," the professor said. "Then on the other hand there's a mural that even some Latino students find too much, and nobody cares. The mural didn't change but the world around it has, and the hypocrisy is too obvious now."
Even Professor Lopez says that he too believes the mural is "a lie," in that it helps CSUN advance a certain image of itself as a pro-Latino university.
"The mural is a lie: It implies that CSUN is sympathetic and supportive of Latino progress when the truth is much the opposite; it's a Hispanic-Serving Institute that profits from the numbers of Latino students but systematically silences and crushes Latino faculty who aren't contained within ethnic studies departments," he said.
RELATED: CSUN professor faces suspension after sending students to pro-traditional family conference
RELATED: Military students at SDSU forced to take down American flag under threat of expulsion
Like The College Fix on Facebook / Follow us on Twitter