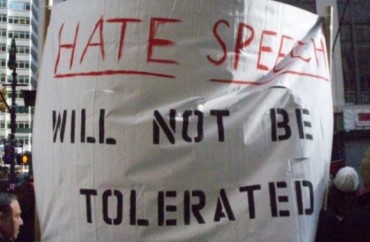 For nearly five decades, the Supreme Court has put strict limits on the government's ability to prosecute people based on speech that is vile but not likely to cause direct harm.
A law professor at the University of Utah wants to "revisit" how 1969's Brandenburg decision is applied, specifically because Donald Trump won the election.
Amos Guiora writes in the Salt Lake Tribune that two recent examples show why it's dangerous to protect speech that doesn't rise to Brandenburg's conditions (intended and "likely" to incite "imminent lawless action"): a Jewish professor getting a note at home that read "Gas Jews Die," and another professor getting a postcard that read "Juden raus!" (Jews out).
MORE: Journalism dean says Muhammad images not protected speech
Brandenburg's accepted meaning is outdated because of the digital age, Guiora argues:
We live in a time where clicks and shares spread hate and false information instantaneously across the internet. …

Brandenburg must be understood to not only protect the speaker's rights, but to also ensure protection of potential targets. As has been made dramatically clear in the past weeks, there is potential danger to minority groups. They are deserving of our protection. We are living in a time when reports of hate are surfacing at an alarming rate.

This is not the type of society we should be comfortable accepting. We need a national conversation that asks: "What are the limits of tolerating hate?"

We may find in these discussions that we have already well surpassed our acceptable threshold for these limits.
Guiora's proffered test for speech that should not be protected: "When reasonable to assume speech will cause harm to others, we should prevent it."
MORE: College cites 'wartime suppression' ruling to silence professor
Like The College Fix on Facebook / Follow us on Twitter
IMAGE: Ashley Marinaccio/Flickr