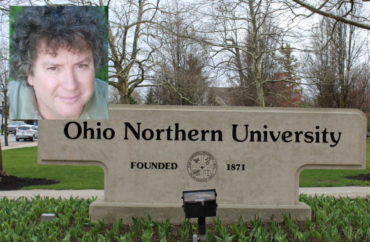 A law professor at Ohio Northern University said he was recently removed from his classroom by school security officers and banned from campus—and administrators refuse to explain why.
"Armed town police followed me down the hall. My students appeared shocked and frightened. I know I was," Scott Gerber, a faculty member at the private Methodist university since 2001, described in a May 9 op-ed for The Wall Street Journal.
After being escorted to the dean's office on the afternoon of April 14 he "was immediately barred from teaching, banished from campus, and told that if I didn't sign a separation agreement and release of claims by April 21, ONU would commence dismissal proceedings against me," the law professor wrote.
"The grounds: 'Collegiality.' The specifics: None," he added.
Ohio Northern University did not respond to requests from The College Fix seeking comment.
Alec Cooper, chief of police for Ada, Ohio, told The College Fix via email Monday: "Our officers were requested for a standby during this incident. From my understanding our officers were placed in a small hallway away from everyone to minimize our presence. We were asked to be present in case of an issue, but there was not one."
Speculation for Gerber's ouster centers on his conservative writings and objections to diversity, equity and inclusion programs and policies.
Just a few days before he was booted from campus, Gerber authored an op-ed in The Hill defending U.S. Supreme Court Justice Clarence Thomas.
In the weeks prior to his removal, Gerber gave a television interview and published two op-eds in which he "criticized DEI programs that discriminate against white men in the name of 'racial and social justice' and for being indifferent to the type of diversity higher education should value most: viewpoint diversity," he wrote in the Journal.
Gerber also has a history of butting heads with some of his colleagues.
In the weeks since Gerber's abrupt removal from his classroom, civil liberties and academic freedom scholars have called on the institution to explain its actions or return Gerber to his job.
An investigation into Gerber was launched in January 2023, but school officials never told the law scholar what it was about and initially described his participation as voluntary, the Foundation for Individual Right and Expression reported.
Gerber refused to participate since he was not informed of the allegations against him, and was subsequently accused of "insubordination" in violation of the faculty handbook, according to FIRE.
"FIRE calls on ONU to immediately provide Gerber with the specific allegations against him — and if his suspension is based on nothing more than expression protected by ONU's academic freedom policy, the university must reverse it," the organization stated.
Katie Kortepeter, a spokesperson for FIRE, told The College Fix that as of Monday, May 22, the group has yet to receive any sort of response from the university.
Zachary Greenberg, a FIRE senior program officer for campus rights advocacy, told The College Fix via email that "we plan on working with Gerber's legal team to discuss next steps."
Gerber, in his Wall Street Journal op-ed, noted that "insufficient 'collegiality' isn't listed as adequate cause in ONU's faculty handbook for dismissing a tenured faculty member."
He added that the American Association of University Professors notified campus leaders twice that "an absence of collegiality ought never, by itself, constitute a basis for nonreappointment, denial of tenure, or dismissal for cause." According to Gerber, "the university president informed AAUP that 'ONU will not be providing a response.'"
The association confirmed Gerber's account in an email to The College Fix on Monday, adding its members "remain keenly interested in developments in Professor Gerber's case."
In his op-ed, Gerber provided an "educated guess" for his situation.
"Like many universities, ONU is aggressively pursuing 'diversity, equity and inclusion' initiatives. I have objected publicly as vice chairman of the University Council, an elected faculty governance body, and in newspaper op-eds and on television, to DEI efforts that don't include viewpoint diversity and would lead to illegal discrimination in employment and admissions," he wrote.
Among Gerber's supporters is Harvard Law School Professor Randall Kennedy, who was joined by over 50 professors in signing a letter to Charles Rose III, dean of ONU's Pettit College of Law, stating legal scholars are "watching this matter closely" and expect the institution "to uphold due process."
Pettit College of Law was recently nationally ranked in the top 25 percent of law schools for trial advocacy.
Peter Wood, president of the center-right National Association of Scholars, also called on ONU to address and correct the controversy.
"Whatever motivated the administration to take this action, the manner of taking it is inexcusable," Wood stated in his May 14 letter.
"What could possibly justify interrupting a professor's class in order to take him under escort to the dean? In the real world we call this bullying. Then to demand his capitulation on the spot without naming charges or following the university's written procedures? In the real world we call this contempt and intimidation."
Wood, who wrote that he has known Gerber for many years, characterizes the professor as "sharp-witted and undeterred by pressures to conform himself to reigning ideology."
A self-described "friend and colleague" of Gerber, Tristin Kilgallon, started a GoFundMe fundraiser on May 17 with a goal of raising a $50,000 legal fund for Gerber.
MORE: DEI's next step? Outing professors who give lower grades to black students.
Like The College Fix on Facebook / Follow us on Twitter