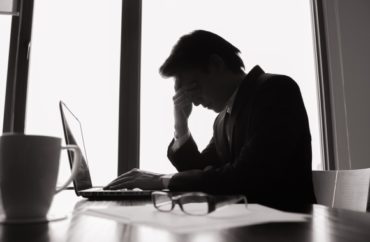 'My goal was to warn colleagues that this is likely to happen, not to say it's a good thing'
The ongoing efforts to implement diversity, equity and inclusion initiatives in higher education might soon include naming and shaming professors who tend to give lower grades to minority students, one scholar warned.
Roy Baumeister, a psychology professor at University of Queensland and professor emeritus at Florida State University, published an op-ed titled "Fighting Systemic Racism on Campus" on May 10 in Psychology Today.
"Make sure your current grading practices are consistent with prevailing social justice expectations at your institution. Once a university algorithm labels you a racist, it will be difficult to shed that label," Baumeister wrote.
Baumeister argued grade disparities between black students and their peers could be the result of racial bias on the part of professors, or simply be construed as such; with that, should grading data be made public, black students may "avoid" professors who give lower grades to minorities and scholars may be labeled racists.
"Supremely valuable to them would be information about how to avoid the worst traps and pitfalls, such as apparently racist professors who may mark them down based simply on their race," Baumeister wrote.
Baumeister also asserted it appears "hypocritical" for professors to claim that disparities in outcome between races are the result of discrimination, while issuing disparate grades to racial groups.
"Indeed, it may seem hypocritical of the professoriate to criticize other realms of society for their ostensible racism by noting differential outcomes — while exempting themselves from the same sort of critical scrutiny," Baumeister wrote.
Baumeister concluded his piece by lambasting "racist" professors, writing he has "no sympathy" for them. He also encouraged non-racist professors to "take precautions" to avoid the appearance of bigotry.
"If you are a professor who is not a racist, however, I suggest you take some precautions to make sure you are not potentially mistaken for one," Baumeister wrote.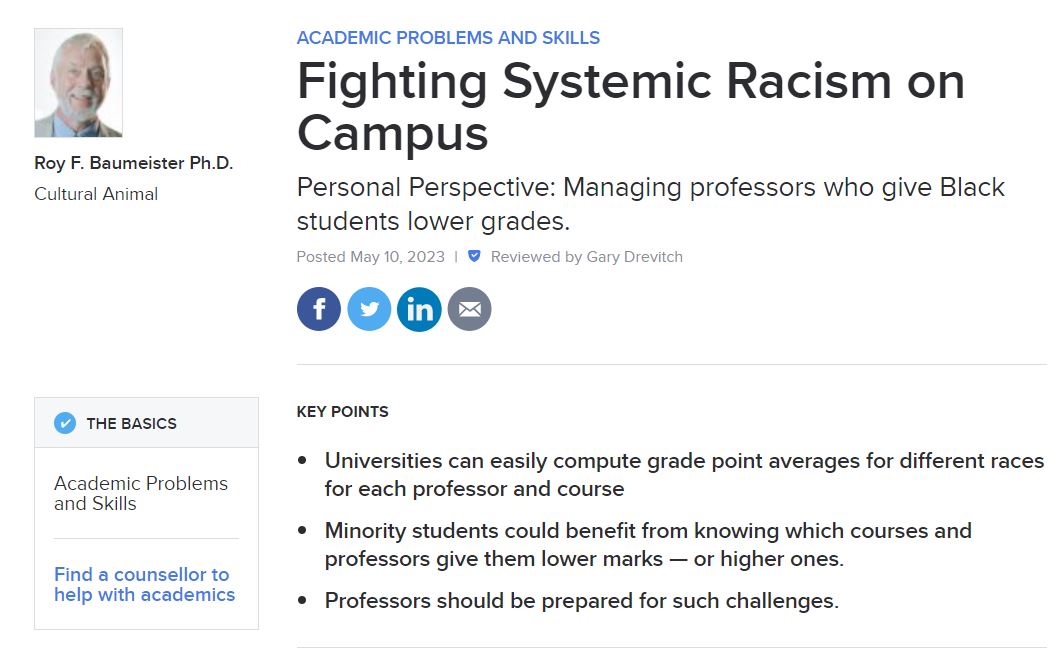 When contacted by The College Fix, Baumeister said he is a believer in meritocracy and the piece constituted a warning to colleagues based on current conditions in academia rather than a personal endorsement of inflating grades of black students.
"My goal was to warn colleagues that this is likely to happen, not to say it's a good thing. I'm actually an old-school sort of person who believes in high standards, treating everyone the same, and the value of correct answers," Baumeister told The Fix.
Baumeister added that given the power of the "diversity bureaucracy" on campuses, it is important for professors to protect themselves against allegations of racism.
"In any case, all that matters is whether the diversity bureaucracy believes in it and gets the authority to combat it in this way. My strong impression from history is that being innocent is not much protection from ideological purges," Baumeister said.
Mark McPhail, an African-American professor fired by Indiana University Northwest after refusing to inflate the grades of minority students, told The College Fix the topic is complex.
"Systemic racism exists well beyond the classroom at our universities, and few are genuinely concerned about exposure for racist practices. Grade policing won't solve the problem," McPhail said via email.
The American Association of University Professors declined to comment to The College Fix for this story.
Baumeister's prediction has already come true, at least at one school.
In 2020, Brooklyn College launched a program to reshape how grades were issued in what one Brooklyn College professor called "grade affirmative action."
The anonymous professor expressed concern that faculty would inflate grades "in order to avoid the stigma of being subtly labeled a racist," according to the New York Post.
In 2021, Georgetown University Law Center fired a veteran law professor, Sandra Sellers, after she lamented that black law students have historically showed lower academic performance.
MORE: Penn Law won't share facts about black student performance after punishing professor
IMAGE: Keifer Pix / Shutterstock
Like The College Fix on Facebook / Follow us on Twitter