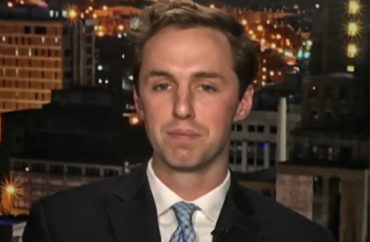 ANALYSIS: With law degree firmly intact, William Spruance can now describe his ordeal and what it all means
"For questioning Covid restrictions, Georgetown Law suspended me from campus, forced me to undergo a psychiatric evaluation, required me to waive my right to medical confidentiality, and threatened to report me to state bar associations."
That's how William Spruance sums up what he faced at Georgetown Law School in 2021 after he asked a few simple questions critical of the school's Covid policies, which at the time included mandatory vaccines, masks — and outlawing students from sipping from bottled water in classrooms.
Spruance had also been "identified as non-compliant" for "letting the mask fall beneath [his] nose," according to a notice he received from Georgetown Law's compliance division.
Spruance, now graduated and a practicing attorney, said he is speaking out about his ordeal because he has something of a moral obligation to do so.
"All these people who put us through all this hell during Covid, shut down the schools, who treated human beings like cattle, who masked the children, they won. They're still in power. There have been no real moments of accountability," Spruance said in a recent telephone interview with The College Fix.
"Georgetown Law is a microcosm for that," he said. "The same folks are in charge."
"So I wanted to come forward," he said, "because I don't know if it will have any effect, but I know that if people are silent, then there almost certainly will not be accountability."
Spruance told his story in mid-February in a lengthy first-person piece for the Brownstone Institute, and appeared on Fox News' Tucker Carlson Tonight on March 28 as well.
The questions he asked at an in-person Student Bar Association meeting in September 2021 are:
What was the goal of the school's Covid policy? (Zero Covid? Flatten the curve?)

What was the limiting principle to that goal? (What were the tradeoffs?)

What metrics would the community need to reach for the school to remove its mask mandate?

How can you explain the contradictions in your policies? For example, how could the virus be so dangerous that we could not take a sip of water but safe enough that we were required to be present? Why are faculty exempt from masking requirements?
Two days later, Dean of Students Mitch Bailin informed him he was indefinitely suspended from campus.
"Bailin told me I would have to attend hearings and provide written statements on why I had asked my questions in order to 'secure permission to return to campus.' Additionally, I had to provide 'a statement explaining why you no longer pose a risk to the community of defying that policy or otherwise creating risks of disruption and risks to the public health,'" Spruance wrote in his Brownstone piece.
"The disruption was asking questions – which happens to be the basis of law school. Cold calls and the Socratic method are the hallmarks of the legal classroom. I was at a trade school for a skeptical profession, but I was banished for asking questions."
Spruance complied with the "series of mandatory administrative hearings, shrink sessions, and meetings with Bailin."
But he also informed Bailin "that journalists, lawyers, and television programs were interested in speaking with me. Later that evening, Fox News covered the story without using my name. … Fourteen hours later, Dean Bailin notified me that my suspension had been lifted."
Spruance, in his recent interview with The College Fix, described today's universities as institutions plagued by "Trojan Horses with innocuous slogans hanging around their necks."
Those expressions include phrases like "anti-racism" or "public health," he said.
"They use [these slogans] as a means to quash dissent on campus by creating this moral high ground," Spruance said. "No matter what the cause is, the result always seems to be the same. There's less tolerance for dissent. There's more power granted to the administration."
Prior to the incident that led to the suspension, Spruance said he probably would have told you he disagreed with most Covid policies given "it seemed really apparent…that for young healthy people [Covid] was not much of a risk [and] shutting down schools seemed ridiculous."
However, he admitted, prior to the fall of 2021, he probably hadn't thought much about them either.
"Covid hit during my first year of law school spring break," Spruance said. "We left for what was supposed to be a week vacation and then we were gone for seventeen months."
When it became apparent his school was not going to return to in-person learning in August 2020, as Spruance said he was led to believe, he left for Florida and spent his second year of law school there rather than wait around for permission to return to campus.
"It wasn't until I returned for my third year when we were back on campus that I really gave a lot of thought to the restrictions because that's when all of a sudden they were imposed on me," he said.
Something about these policies seemed irrational or illogical to him, Spruance said.
According to Spruance, Bailin told him to get involved in the conversation and informed him of the Student Bar Association meeting at which he later asked his questions about Georgetown's Covid policies. Spruance was not wearing a mask at the time.
"When I went into my speech … it wasn't supposed to be a diatribe just to get my skepticism across or my point of view across. It really was a good faith attempt to dialogue," he told The Fix. "There was a degree of insecurity walking into the room of 'What if there were really simple answers to my questions?'"
"What could I be missing?…" he said he had asked himself. "Our information cycles became more and more siloed during Covid. I was worried that perhaps the answer to my questions was readily available on some alternative stream of information."
"So I wasn't dogmatic on the point," Spruance said. "I was skeptical, but…sincerely curious."
Two days later, said Spruance, he was suspended by Bailin. The College Fix reached out to Dean Bailin for comment, but did not receive a response.
"Officially," said Spruance, "my suspension wasn't for the content of the speech. It was for being a risk to the public health of the university…Their whole thing came down to I gave a speech without a mask."
According to Spruance, he was more than six feet from the nearest person.
"There were a series of requirements in order to return to campus," said Spruance, "including a written statement explaining my quote 'defiance' of the school's masking requirements, a statement of why I no longer pose[d] a risk to the community, a participation in mental health examinations, and a full release of my medical records [from the mental health examinations]."
The College Fix contacted Georgetown's Office of Strategic Communications regarding whether such punishments were standard for disobeying Covid protocols, but did not receive a response.
Spruance said he will never know who made the call to lift his suspension, or precisely why.
Spruance said he was up front with his professors about what had happened and why he had to miss class. He said he was later informed some alumni wrote a letter on his behalf. Having previously done some freelance work for Fox News and some journalism internships, Spruance said it helped him get his anonymous story out there when he was under pressure.
Despite being allowed back on campus, however, Spruance said "I didn't win."
"I went right back to campus. The same rules existed," he added. "There were no horror stories. But there were the dirty glances and whispers."
Given how upset he said he was following the situation, Spruance said, he tried to take advantage of the hybrid courses still being offered in order to reduce his time on campus as much as possible.
Reflecting back though, Spruance acknowledges, "I can't complain compared to what a lot of people have been through."
"I've been amazed at people who have come forward to me with stories that are so much worse than mine, people who've lost their livelihoods, who had their careers turned off course…" he said. "… That's why we need more and more people to be able to come forward with their stories."
"Eventually," said Spruance, "the voices can become a chorus."
MORE: Pregnant black female math professor set to be fired for refusing COVID vaccine
IMAGE: Fox News screenshot 
Like The College Fix on Facebook / Follow us on Twitter