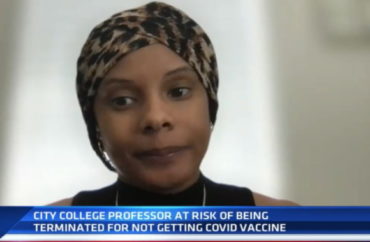 The college claims it's committed to diversity, equity and inclusion, but it's also set to fire a Muslim doctor and a Latina immigrant, professor argues
The San Diego Community College District is slated to fire employees who have refused the COVID vaccine — including a longtime math professor who is speaking out about her situation.
"As a pregnant woman with a high-risk pregnancy, I am facing a new challenge. The San Diego Community College District is threatening me with termination unless I receive the COVID-19 vaccine, which is in stark contrast to many other institutions of higher education that have accommodated their employees' legal, religious and medical exemptions," stated Tracey Kiser, a math professor at San Diego City College, in an op-ed for the San Diego Union-Tribune.
"Last year, after a decline in enrollment, the San Diego Community College District dropped the COVID-19 vaccine requirement for students, but it has not been dropped for faculty and staff," wrote Kiser, who also directs her school's math center.
"On Jan. 19, the San Diego Community College Board of Trustees terminated three employees for noncompliance with the COVID-19 vaccine mandate. On March 2, the Board of Trustees plans to terminate me and five of my colleagues," Kiser wrote in her op-ed, published Feb. 21.
"At the board meeting, I will have only five minutes to defend my life's work and my livelihood. Why is the San Diego Community College District denying its employees the same civil rights and accommodations it affords its students?"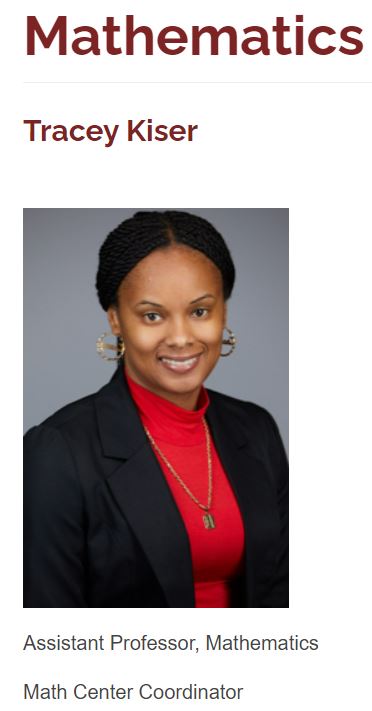 The longtime teacher told KUSI she began teaching remotely in March 2020, and was granted a religious exemption in 2021 from the COVID vaccine; she continued to teach remotely until August of 2022, when she was placed on paid administrative leave.
She told KUSI it's taken several adjunct math professors just to handle her sole teaching duties since she was placed on leave.
She added that she loves teaching, that it's her calling, and she was not placed on leave for poor work performance. She pointed out there's irony in the fact that a student who is not vaccinated could enroll in her class, but she as the teacher could not teach it because of her status.
In her op-ed she also pointed out even CDC officials now acknowledge the COVID vaccine does not prevent transmission.
KUSI noted that the city of San Diego "retracted its vaccine mandate in January, 2023. The federal vaccine mandate will likely be retracted when the COVID-19 national emergency and public health emergency are both formally put to bed on May 11. Most schools across the nation are short staffed, yet SDCCD continues to consider the termination of professors like Dr. Kiser."
But the college district told KUSI in a statement in late February that employees must comply with the vaccine mandate.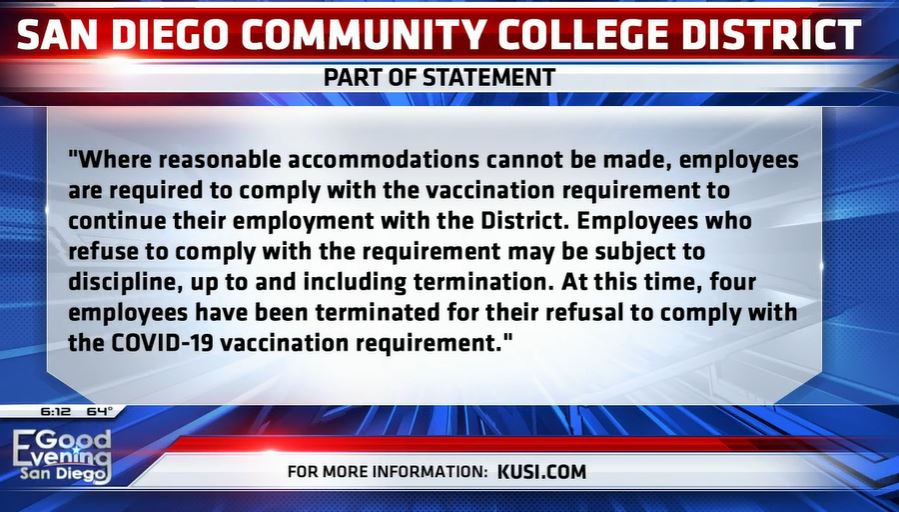 In her San Diego Union-Tribune op-ed, Kiser argued it is "time for the district to live up to its commitment to diversity, inclusion and equity."
"Other faculty members slated for termination come from diverse backgrounds, including a Muslim female doctor of psychology, a Latina single mother and an immigrant who has worked for the district for 33 years," she wrote. "The district is telling us that we no longer belong because of our deeply held religious and moral convictions. Are freedoms of religious belief no longer part of the diversity that this institution claims to embrace?"
MORE: Professor who refused COVID vaccine loses court battle, but continues war against mandates
IMAGES: KUSI, SDCC screenshots
Like The College Fix on Facebook / Follow us on Twitter