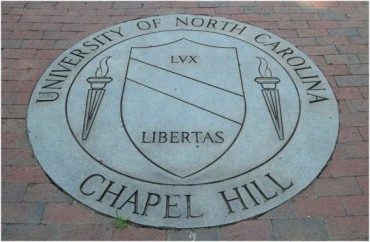 A lampooned session offered last fall at UNC Chapel Hill that touted concepts such as "right-handed privilege," "systematic oppression through implicit biases" and "identity-based privilege" will not be returning to campus this fall.
"[W]e have no plans to bring Social Responsibility Speaks representatives back to campus," a UNC Chapel Hill representative told state Rep. Jon Hardister in an email.
The decision marks the end of an embarrassing chapter for UNC for hosting a session that suggested "right-handed privilege" was a real threat to student wellness.
The controversial session had been led by Christina Parle of the group Social Responsibility Speaks, Carolina Review reported at the time.
Parle began with an indigenous land acknowledgment, then delved into "privileged identities," including height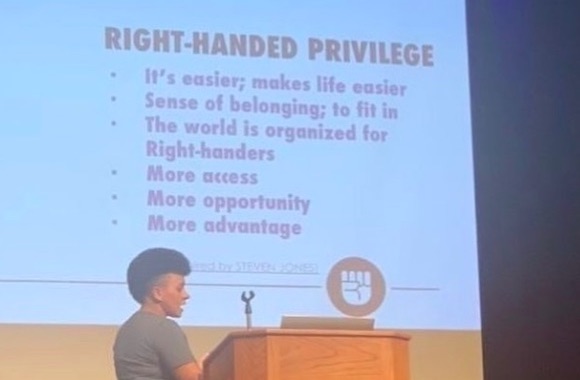 privilege, noting supermarkets use the law of averages and build for the "average height person."
The Review also reported Parle "asserted that right-handed privilege is yet another system, explaining that it has 'made left-handed people invisible by setting the standard.'"
"After a moment of consideration, the labels of 'right-handedness' and 'right-handed privilege' were replaced with 'whiteness' and 'white privilege.'"
After the session made headlines, 68 North Carolina lawmakers co-signed a letter written by Hardister, a Republican, demanding answers over the programming.
NCGA Demands Guskiewicz Respond: chair of NC House Ed Committee @JonHardister & 67 cosigning NCGA members sent a letter to Chancellor Guskiewicz demanding response to the mandatory 'Right-Handed Privilege' event hosted by the UNC Admin, which was uncovered by Carolina Review. pic.twitter.com/4NR6beZByZ

— Carolina Review (@CarolinaReview) November 3, 2021
Hardister, the statehouse majority whip, told The College Fix that he and his colleagues' concerns over the programming prompted UNC Chapel Hill Chancellor Kevin Guskiewicz to reevaluate it.
"I believe our efforts to raise awareness got the attention of UNC leadership and the Board of Trustees," Hardister said via email recently to The College Fix.
UNC's media relations team provided The College Fix with a copy of Chancellor Guskiewicz's response to Rep. Hardister's original letter. It basically argued that the session was part of a much larger wellness program.
The letter pointed out it was not mandatory campuswide, was meant for members of the Greek Life system, and that it cost $4,000, paid for by fraternity and sorority fees, not tax dollars.
"There were mixed reactions to the content presented and while many found it useful, clearly others did not. Regardless, the series is now on hold and under review. It will be reevaluated in the new year before any new sessions are offered," Chancellor Guskiewicz wrote.
Hardister, who chairs North Carolina's House Education-Universities Committee, said he has "subsequently had productive conversations with Chancellor Guskiewicz and others at UNC about the importance of avoiding university-sponsored programs that cause division among students."
UNC media relations department did not respond to further queries by The College Fix.
In a letter from UNC officials to Rep. Hardister, campus leadership explained its plans moving forward, noting the wellness programming will continue but they will not invite back the organization behind the "right-handed privilege" seminar:
Representative Hardister,

Very sorry for the delay in getting you this response. Please see below from our folks in student affairs.

Thank you for your follow-up questions. It's important to understand that the "8 Dimensions of Wellness" series isn't a training program, but a series of educational workshops about student health and wellbeing.

As noted, our remaining programs in the 8 Dimensions of Wellness series focus on stress and mental/emotional health through the "emotional wellness" workshops that remain for February and career planning and preparedness in the "career wellness" workshops for March/April. There are no other DEI-related workshops planned in this series. Given that the Oct. 18 DEI workshop was a one-time session, and we have no plans to bring Social Responsibility Speaks representatives back to campus, our review of the Wellness series led us to determine that we didn't need to discontinue or change our practices for the remaining educational workshops, which address critical topics for our student community.

As we always do, we will exercise all due diligence in sourcing and vetting speakers that we bring to campus—and ensure that we reflect a diversity of viewpoints, experiences, and expertise. Thank you for your support of Carolina and our students.
Hardister also told The College Fix he hopes that the entire situation will serve to prompt campus leaders to better vet future seminars in an effort to avoid divisive, ideological programs.
"In my opinion, this is an issue that the UNC Board of Governors needs to work to address by creating a framework, defining what kind of mandatory training programs are and are not permissible," he told The College Fix via email.
When asked what such a framework would look like, Rep. Hardister said he believes it would need to "require diversity and inclusion training to focus on mutual respect, not being judgmental, don't judge others based on physical or ethnic characteristics, etc.," while also prohibiting "university-sanctioned instruction or training that promotes the theory that one race is inherently oppressive or that a person is predisposed to be a racist, bigot, etc., simply because of their race, gender [or] ethnicity."
Hardister, in his email to The Fix, said he would hope the Board of Governors takes up such efforts, but added legislative action is always an option.
Hardister suggested that House Bill 324 — which would prohibit CRT-like instruction in public K-12 schools — could be expanded to cover higher education institutions and could serve as a "model for such a framework."
Although the bill was recently vetoed by North Carolina's governor, Hardister said he suspects the General Assembly will try again to pass it, probably "after this year's election, particularly if Republicans gain seats in the midterm."
He noted "not a single Democrat voted in favor of this bill."
MORE: Activist lectures U. North Carolina students about 'right-handed privilege'
IMAGE: William Yeung / Flickr
Like The College Fix on Facebook / Follow us on Twitter