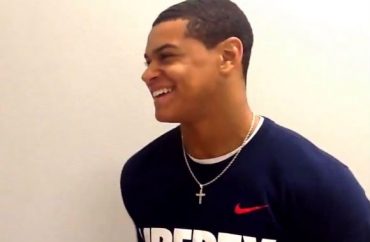 Showing it's tough on sexual assault while hiring Baylor official
Liberty University discriminated against a football player because he's male and libeled him as a rapist, according to a new lawsuit seeking more than $100 million from its employees and the accuser.
Cameron Jackson claims he stopped attending classes at the evangelical Christian university because of "on-campus harassment" by other students that Liberty did nothing to stop, The News & Advance reports.
The school publicly named him and another player a rapist in September, based on an off-campus incident that was not reported for 11 months.
Liberty refused to delay Jackson's appeal until after the Lynchburg Police Department investigation was complete, and expelled him Oct. 4, forever ruining his chances of an NFL career.
Police found "no evidence" to substantiate the claims, and "within hours" of his expulsion, Jackson was notified by the city attorney that "no criminal charges would be filed," the suit claims.
Former student / football player Cameron Jackson is suing Liberty University and 6 others for defamation, seeking $102.1 million pic.twitter.com/zDCYXNGnSn

— Marissa Parra ABC 13 (@MarParNews) April 26, 2017
MORE: Football players boycott until accused teammates reinstated
It portrays Liberty as more interested in demonstrating its commitment to fighting sexual assault than seeking justice. At the time the Christian university was hiring a new athletic director, Ian McCaw:
McCaw previously was athletic director at Baylor University, which was rocked by a widespread sexual assault scandal within the athletic department that led to the firing of BU's president and football coach. McCaw has denied direct knowledge of the cover-up of sexual assaults at Baylor.
"… LU's decision to uphold a finding of sexual assault and render the harshest available sanction was unfairly influenced by the University's desire to preserve its own public image as a leading Christian university, regardless of any fairness or due process it owed to Mr. Jackson." …
In November, when McCaw was hired, LU President Jerry Falwell Jr. told The News & Advance the university has "gone to great pains to make sure we've complied" with Department of Education Title IX regulations, which were established in 1972 to prevent sex-based discrimination in schools.
Jackson's accuser, another student athlete who was "involved in a non-exclusive sexual relationship with Jackson and other football players, had motive to falsely accuse him, according to the suit.
She had already been dismissed from Liberty "after multiple student conduct violations," and she conspired with two other female students to falsely accuse football players but not report the alleged rapes to law enforcement.
Jackson is seeking $50 million in damages from Liberty, "up to" $50 million from the accuser, and $100,000 to $1 million against several officials involved in the proceeding.
Those run the gamut from a Title IX official to Liberty's own spokesman, who "withheld significant relevant facts" from a news release in order to "discourage" Jackson from appealing, the suit claims.
MORE: Why this campus paper called the accuser 'victim-survivor' from the start
Like The College Fix on Facebook / Follow us on Twitter
IMAGE: Edwin Garrett/YouTube
Like The College Fix on Facebook / Follow us on Twitter