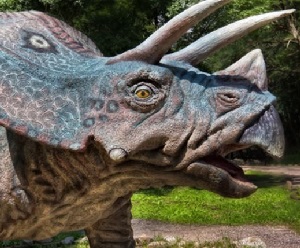 Self-described creationist scientist Mark Armitage filed a lawsuit against California State University Northridge this week, claiming he was fired by college officials after he discovered soft tissue on a triceratops horn and published his findings.
The lawsuit alleges religious discrimination and wrongful termination, with Armitage claiming in court documents that after his surprising discovery – which supports a young Earth theory – university officials went on a successful "witchhunt" against him.
Armitage, who has some 30 publications to his credit and is past-president of the Southern California Society for Microscopy, was hired by the university in early 2010 to manage a wide variety of oversight duties for the biology department's array of state-of-the-art microscopes, court documents state. He also trained students on how to use the complicated equipment.
In the summer of 2012, while at the world-famous dinosaur dig at Hell Creek Formation in Montana, Armitage discovered the largest triceratops horn ever unearthed at the site, according to his attorneys in a statement.
"When examining the horn under a high-powered microscope back at CSUN, Armitage was fascinated to see the soft tissue," stated lawyers with the Pacific Justice Institute, which represents Armitage.
According to the lawsuit – a copy of which was posted on the CBS Los Angeles news website – the discovery sent shock waves through the Cal State Northridge community.
"The finding of soft tissue in a triceratops horn, complete with bone cells that look alive, was shocking to many in the department of biology … because such cells would have decayed into nothingness 65 million years ago," the suit states. "Since some creationists, like plaintiff, believe that the triceratops bones are only 4,000 years old at most, plaintiff's work vindicated his view that these dinosaurs roamed the planet relatively recently."
The lawsuit contends that that discovery was the beginning of the end of Artimage's employment at Cal State Northridge, with one university official storming into his office in June 2012 and shouting: "We are not going to tolerate your religion in this department!"
Things got more tense after the scholar published his findings, first in the November 2012 issue of American Laboratory magazine, which published images of the soft tissue on its cover, and then online in February 2013 in the peer-reviewed journal Acta Histochemica, according to the lawsuit.
On Feb. 27, 2013, his employment was terminated. Campus officials told Armitage his job was only a "temporary appointment," and claimed a lack of funding for his position, according to his attorneys.
"It has become apparent that 'diversity' and 'intellectual curiosity,' so often touted as hallmarks of a university education, do not apply to those with a religious point of view," stated Michael Peffer, an attorney with the Pacific Justice Institute. "This suit was filed, in part, to vindicate those ideals."
Cal State Northridge spokesperson Carmen Ramos Chandler told CBS Armitage was a temporary hire, declining to comment on the lawsuit as university officials have yet to receive a copy.
The Christian News Network reports that in an interview with GenesisWeek, "Armitage said he was shocked and frustrated when the university terminated his employment."
"It is frustrating because I made no conclusions in the paper, I just presented the factual data," Armitage had said. "The only conclusions I drew were that 'This needs to be investigated further. We have a lot of work to do.' And that was it."
The lawsuit, which also alleges that the university violated Armitage's freedom of speech and academic freedom, seeks compensatory and punitive damages, back pay, attorneys fees, and "an injunction mandating the elimination of discriminatory practices by defendants in the future relating to protected speech activity concerning intelligent design, religious and political speech."
Armitage's discovery is not the first reported soft tissue found on dinosaur bones. There was also a 2006 discovery by a North Carolina State University scholar, as well as a Canadian find last year.
h/t: Christian News Network , CBS LA
INSIDE MICROSCOPE IMAGE: Courtesy of Bob Enyart Live
MAIN: Miroslav Petrasko/Flickr
Jennifer Kabbany is editor of The College Fix ( @JenniferKabbany )
Like The College Fix on Facebook / Follow us on Twitter