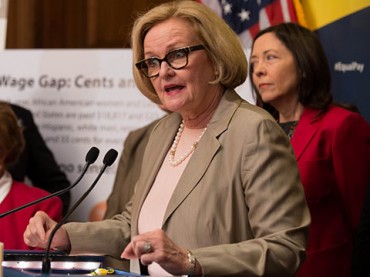 The Association of Public and Land-Grant Universities coached its members earlier this week on what to tell federal lawmakers about the Campus Accountability and Safety Act, including specific provisions it opposes, according to a memo obtained by Inside Higher Ed.
The memo is carefully phrased, telling members to convey that they "fully embrace" dealing with sexual-assault issues and that, "in concept," the House and Senate sponsors of the bill want to do that too. Democratic Sen. Claire McCaskill of Missouri sponsored the Senate measure, which now has 14 cosponsors evenly divided between parties.
Universities should show their congressional delegations during the August recess "just how seriously you take this matter" and what they are already doing "in concrete terms," in the event that their lawmakers are "in a position to shape the legislation," the memo said.
The association has a few problems with the legislation, it told members. The "confidential advisor" for victims is also a "fact-finder" in incidents, roles that are "inconsistent and should be separated" in revised legislation.
It wants the same mandate and noncompliance penalties on local law enforcement agencies as on universities to enter into memoranda of understanding with each other, or else schools could be at a negotiating disadvantage over "financial considerations" with police.
The association notes that the Department of Education would have a perverse incentive to punish universities:
The U.S. Department of Education would be responsible for pursuing cases against universities and the revenue from penalties would all go to the Department, which creates undue incentive and may invite a bounty mindset.

Two separate provisions in the bill each call for non-compliance penalties of up to 1 percent of an institution's operating budget. This means an institution could face penalties of up to 2 percent of its operating budget. There are additional financial penalties elsewhere as well. [emphasis added]
The association also wants feedback from its members on "the terms of the required campus climate survey" in the legislation, which schools would use to judge the scope of sexual misconduct on campus.
Even a former member of President Obama's cabinet has doubts about the legislation.
University of California System President Janet Napolitano told Inside Higher Ed that the climate survey should not take a "cookie-cutter approach" across all schools and that the "lengthy and laborious" rulemaking process could disparately impact some schools.
Like The College Fix on Facebook / Follow us on Twitter
IMAGE: Senator Claire McCaskill/Flickr