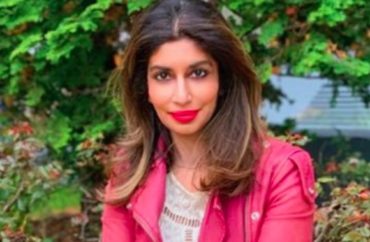 A lecturer at Yale University's School of Medicine told attendees at an event back in April that she fantasizes about killing white people.
The talk was titled, ironically enough, "The Psychopathic Problem of the White Mind."
According to The Federalist, forensic psychiatrist Aruna Khilanani enlightened those at YSM's Department of Child Study Center about her dreams of "unloading a revolver into the heads of any white person that got in [her] way, burying their body, and wiping [her] bloody hands as [she] walked away relatively guiltless …"
She added she would have a "bounce in her step" … like she did "the world a fucking favor."
Khilanani's animus against white people extends into her personal life, as she noted that she had made it her goal to "cut out everything white," describing her motivation behind cutting off white friends and leaving institutions she considered too white.

"There are no good apples," Khilanani remarked. "White people make my blood boil." …

"White people are out of their minds and they have been for a long time […] We keep forgetting that directly talking about race is a waste of our breath. We are asking a demented, violent predator who thinks that they are a saint or a superhero, to accept responsibility. It ain't gonna happen. They have five holes in their brain. It's like banging your head against a brick wall."
The New York Post reports that Khilanani "cut off most of her former white friends five years ago."
As might be expected, Khilanani complained that her remarks were taken out of context.
"You are having a psychoanalyst talk about fantasy in relationship to writing,"  Khilanani told The Federalist. "Everyone has fantasies, dreams. nightmares. Not being in contact with your unconscious is what causes problems."
MORE: Brandeis U. dean: 'Yes, all white people are racist'
She told The New York Times her comments were an example of "provocation as a tool for real engagement."
"Too much of the discourse on race is a dry, bland regurgitation of new vocabulary words with no work in the unconscious," Khilanani wrote in an email. "And, if you want to hit the unconscious, you will have to feel real negative feelings."
The Yale School of Medicine responded over the weekend with the following:
After the [Khilanani] event, several faculty members expressed concern to the Yale School of Medicine's Office of Academic and Professional Development and the Office of Diversity, Equity & Inclusion about the content of the talk.

Based on these concerns, School of Medicine leaders, including Dean Brown and Deputy Dean Latimore, in consultation with the Chair of the Child Study Center, reviewed a recording of the talk and found the tone and content antithetical to the values of the school.
The YSM noted it would grant access to video of the event only to those who had attended. The reason? Khilanani's "extreme hostility, imagery of violence, and profanity."
Khilanani said she wants the video made available to the general public so people can "fully understand what [she is] saying." (Audio of the talk is here.)
According to her website, Khilanani claims psychoanalysis "has a long history of harm amongst marginalized identities." The field "exists within in a worldview of structuralized racism and sexism," and that because psychoanalysts "may not even consider unconscious forces of racism/ sexism at play" they are "the problem" and (could) engage in "malpractice."
Khilanani is different, she explains, due to her use of "forensic psychiatric methods and critical theory to examine the REALITY of the analysis" (emphasis added).
Read the Federalist and NY Post articles.
MORE: Stanford student senator: 'White people need to be eradicated'
IMAGES: NY Post / Twitter screencap; Yale School of Medicine screencap
Like The College Fix on Facebook / Follow us on Twitter