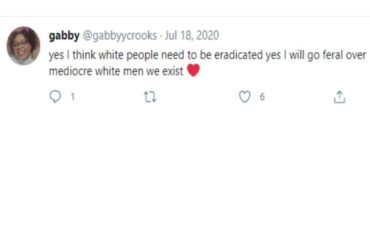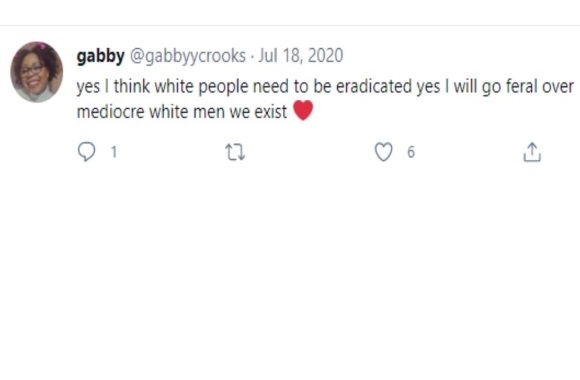 Stanford University student Gabrielle Crooks, a member of its student government, expressed her hatred for white people in a series of tweets this past summer.
"Yes I think white people need to be eradicated yes I will go feral over mediocre white men we exist," she wrote in July 2020.
Despite advocating for genocide, her student senate page biography states that she aspires to be a "human rights attorney" and "address racial violence." She is also a Black Recruitment and Orientation Committee coordinator at Stanford.
Crooks is currently seeking re-election to the student senate, with voting to take place this week. In her candidate statement, Crooks accuses Stanford University of having "serious problems with regard to race" and "an unfortunate, but intimate, history with racism."
In another tweet, Crooks alleged that the United States is a racist country, spelling America as "amerikkka"; "not a passionate amerikka lover in my IR [international relations] class….. I thought y'all were joking," she tweeted in October 2020.
Crooks also tweeted she "has friends who are white but she just can't support it." She also tweeted "why do white people think everything is about them."


Her old tweets were brought to light this week by the Stanford College Republicans.
"During a time when racial tensions are the highest they have been in recent memory, it is revolting to see a sitting member of the Student Senate openly advocate for white genocide," said Stanford Republicans' spokesman Stephen Sills in an email to The College Fix.
"If the word 'black' were inserted in the place of the word 'white,' one can only imagine the moral outrage that would ensue," he said. "This blatant anti-white racism from a sitting student senator is unacceptable."
"The fact that this student senator felt comfortable saying this while being a representative of Stanford students, many of whom are white, says a lot about how she feels about the members of the student body she represents."
Crooks has not responded to repeated requests from The College Fix seeking comment.
Crooks also retweeted a cartoon that featured a fictitious college campus, adding the caption "white tears live stream." The image featured statues of Karl Marx and Chinese Communist Party founder Mao Zedong, anarchists destroying the Classics Department building, a white man being tortured and set on fire, a "Cuck Zone," a "privilege check station," a sign that states, "Reminder: It's Not Okay to be White," and other symbols of degeneracy and corruption.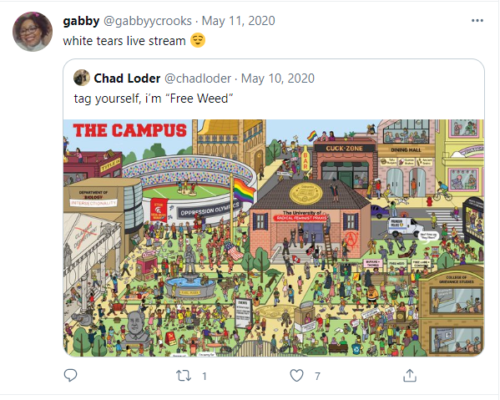 Crooks also accused "white America" of pushing anti-Asian racism in one tweet. Asians are not spared from criticism from her either, however, as she accused them of spreading "anti-Blackness" in another. Screenshots of the tweets were provided to The College Fix.
"These racist and genocidal remarks are disgusting," the Stanford Republicans state on social media in posting screenshots of the tweets. "The left wants you to believe that racism is acceptable, as long as it is targeted at whites."
MORE: VCU student president says she hates white people, advocates cop killing
VIDEO: 'I hate white people,' black law student leader says
IMAGES: screenshots
Like The College Fix on Facebook / Follow us on Twitter