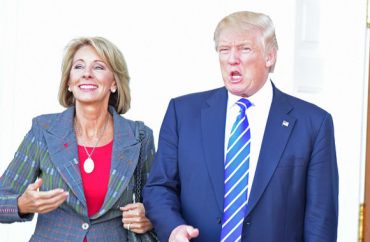 UPDATED
The Left is officially flipping out over Betsy DeVos (disclosure).
Donald Trump's pick for education secretary underwent a confirmation hearing Tuesday and her answers did not sit well with liberals — the self-anointed keepers of all things K-12 and higher education who are not keen on giving up their monopoly on educating America's youth.
In the wake of her testy confirmation hearing, the reaction has been fast and far-reaching, a left-leaning chorus echoing across the nation that aims to derail DeVos.
UC Berkeley Professor Robert Reich, former labor secretary under Bill Clinton, went on something of a rant, posting on Facebook: "DeVos knows nothing about public education, cares nothing for public education, has never even been publicly-educated, and appears to have learned nothing in her briefings for the hearing. If she's confirmed, anyone can be confirmed for anything."
Reich seemed absolutely incredulous that she "said school districts should decide whether guns are allowed in schools, and she supported Trump's call to ban gun-free zones around schools" and that her past statements included government "sucks" and public schools are a "dead end."
Filmmaker Michael Moore blasted on Twitter: "In Michigan, her mission has been to destroy our public schools. Here, the for-profit charter schools business is a billion-dollar industry!"
Democrat darling Sen. Elizabeth Warren posted on Facebook that DeVos shouldn't get the job because she can't handle the responsibility, or something.
"As Education Secretary, Betsy DeVos would be in charge of running a $1 trillion student loan bank. She has no experience doing that. In fact, Betsy DeVos has no experience with student loans, Pell Grants, or public education at all. Tonight at her confirmation hearing, I asked Betsy DeVos a straight forward set of questions about her education experience and commitment to protecting students cheated by for-profit colleges. If Betsy DeVos can't commit to using the Department of Education's many tools and resources to protect students from fraud, I don't see how she can be the Secretary of Education," Warren declared.
Good 'ol Sen. Bernie Sanders chimed in on Twitter with: "We need a Secretary of Education who actually supports public education."
Slate declared: "She's either underprepared or a zealot."
Vox tried to get clever with this one: "Betsy DeVos says guns shouldn't be banned in schools … because grizzly bears."
An article marked "urgent" over at The Daily Beast asserts: "Betsy DeVos, Trump's Education Pick, Could Make Life Hell for LGBT Youth."
And The Huffington Post quotes Wade Henderson, president of The Leadership Conference on Civil and Human Rights, as saying "We cannot support a nominee who has demonstrated that she seeks to undermine bedrock American principles of equal opportunity, non-discrimination and public education itself."
The Washington Post led with this headline, "Betsy DeVos, Trump's education pick, lauded as bold reformer, called unfit for job," reporting Democrats attacked her during her confirmation hearing while Republicans defended her.
"A Michigan billionaire, DeVos has lobbied for decades to expand charter schools and taxpayer-funded vouchers for private and religious schools, but she has no professional experience in public schools, never attended public schools nor sent her own children to public schools. She also has not held public office," the Post reports. (In other words, an outsider.)
Hours before her confirmation hearing even began, Mother Jones warned its readers: "Betsy DeVos wants to use America's schools to build 'God's kingdom.'"
Without question, the War on Betsy DeVos is officially underway.
Editor's Note: This post has been amended to include a disclosure. 
MORE: Democrats cry foul on Trump education nominee because she supported due-process group
MORE: Republican lawmakers cheer Trump's nomination of Betsy DeVos for education secretary
Like The College Fix on Facebook / Follow us on Twitter
IMAGE: A. Katz/ Shutterstock