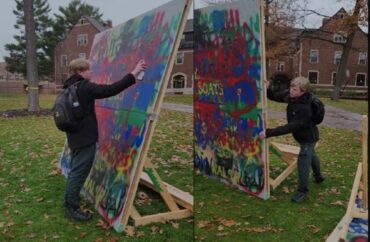 Conservative group calls it 'ironic' since it planned to tear it down 
A leftist student at Michigan Technological University vandalized and attacked a Berlin Wall display, according to Young America's Foundation.
The campus Young Americans for Freedomgroup set up the display at the public university in Houghton last week to commemorate the fall of the Berlin Wall on November 9, 1989.
But a student found the display offensive and began spray painting it before eventually tearing it down. The group called his action "ironic," since it planned to tear down the display later to commemorate the fall of the wall which divided East and West Berlin.
YAF reported on its website:
In celebration of President Ronald Reagan's monumental call to "tear down this wall," the students had planned to tear it down at the end of the day, demonstrating the importance of Reagan's legacy on a campus where naive leftists still fervently advocate for the very policies that threaten the freedoms he stood up for.

Ironically, an upset leftist student ended up being the one to tear down the wall.

The socialist sympathizer, armed with a bottle of red spray paint, approached the display and began spraying the YAF students' personal belongings and faces.

According to YAFers who were on scene at the time of the incident, the student began criticizing the project, told them to kill themselves, and then tore down the wall.
"Campus police questioned the student, but let him go, at which point he returned to the display to continue protesting," YAF reported.
Leftist protester vandalizes and tears down Berlin Wall display put up by Michigan Tech YAF chapter pic.twitter.com/RwMHMLVrgl

— YAF (@yaf) November 11, 2023
This is not the first time leftists have attacked the Berlin Wall display. Black Lives Matter spray painted "Black Lives Matter F*** White Supremacy" and other sayings at a 2017 display set up at the University of Michigan by the campus YAF group.
The mock wall "included words and concepts that our YAF chapter believes need to be 'torn down' throughout college campuses such as political correctness, safe spaces, etc. These words may have triggered the group, or it is possible that they were trying to prevent our demonstration against the evil acts of communism," the YAF chairman told The College Fix at the time.
University of Michigan students also reportedly complained the Berlin Wall display was a "bias incident," in 2015, as previously reported by The Fix.
MORE: Check out the Campus Cancel Culture Database
IMAGE: YAF/Twitter
Like The College Fix on Facebook / Follow us on Twitter