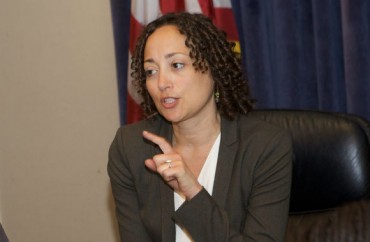 When Catherine Lhamon, the chief of the Department of Education's Office for Civil Rights (OCR), explained its purported Title IX authority to impose substantive new rules on colleges without a formal regulatory process, she might have hoped nobody was reading her references too closely.
Unfortunately for Lhamon, some smart folks are checking her cited case law: First former OCR lawyer Hans Bader, and now Susan Kruth of the Foundation for Individual Rights in Education (FIRE).
Lhamon was responding to a request from Sen. James Lankford, R-Okla., Regulatory Affairs Subcommittee chairman, who has taken a strong interest in her office's five-year campaign to overhaul college sexual-misconduct procedures in the absence of any notice-and-comment period.
Kruth writes for FIRE that Lhamon's citation of the recent Supreme Court decision in Perez – on the "interpretive rule" exception to notice-and-comment – is not at all applicable to OCR's behavior:
But in Perez, the Court wrote, "From the beginning, the parties litigated this suit on the understanding that the Administrator's Interpretation was—as its name suggests—an interpretive rule."
RELATED: Department of Education official bizarrely claims it's not threatening colleges in rape disputes
In stark contrast, FIRE, Lankford, and others have argued that OCR's "guidance" is not an "interpretive rule" because it imposed wholly new obligations on institutions—particularly the 2011 [Dear Colleague letter's] mandate that colleges use the low, "preponderance of the evidence" standard when adjudicating allegations of sexual misconduct. Perez cannot provide support for an argument otherwise because the Court simply didn't analyze whether the contested rule in that case was "interpretive."
Lhamon goes on to cite a federal regulation that implements Title IX as the source of her office's authority to require the preponderance standard. Yet the regulation on its face "does not contemplate any standard of proof," just the requirement that schools set "grievance procedures," Kruth said, quoting Lankford.
The Office for Civil Rights' response to @SenatorLankford's inquiry is, well, not all that responsive. https://t.co/PKBm0lTiCD

— FIRE (@TheFIREorg) February 29, 2016
When Lhamon cites her office's past "findings letters" to individual institutions under investigation, in which OCR required them to use the preponderance standard, she is arguing that
because it began enforcing this mandatory standard before publicly proclaiming it, the mandate isn't new anymore and doesn't have to go through the normal rulemaking process. We are unconvinced.
RELATED: Department of Education botches Title IX obligations in response to Congress, ex-official says
Recommendations made in response to "the totality of the circumstances" at a particular school are not a top-down mandate, which is what OCR seeks to justify:
Through the 2011 DCL, OCR imposed the preponderance standard on all schools governed by Title IX regardless of their other policies or circumstances.
Going back to lawyer Bader's analysis, Kruth notes that Lhamon is conflating institutions with students when she says Title VII case law justifies the mandatory preponderance standard:
Besides the parties involved and the key questions being different, what's at stake for the winner and loser is different in court and in campus hearings, and the procedural protections afforded the parties are different.
By defending the preponderance standard as "practicable" because many schools used it before the 2011 Dear Colleague letter, Lhamon is making the "extremely tenuous" claim that "the mere existence of policies [is] proof of their legality," Kruth says.
And Lhamon is simply being disingenuous when she says OCR's guidance doesn't have the force of law, Kruth says: The 2011 Dear Colleague explicitly says schools "must use" preponderance in sexual-misconduct proceedings, "and in recent years, OCR has consistently found institutions in violation of Title IX for not doing so."
RELATED: Senate chairman demands Department of Ed give a legal reason for dumping due process
Lhamon is talking out of both sides of her mouth when she claims that "unwelcome conduct of a sexual nature" is not necessarily "unlawful sexual harassment," depending on a school's response, Kruth says:
OCR fails to appreciate the fact that if it labels something "sexual harassment," reasonable members of the campus community will assume it's prohibited. Students will self-censor, and administrators will punish such speech. They already have. Expecting students, faculty, and administrators to categorize protected expression as "harassment" but not take action against it is ridiculous—and contrary to OCR's own advice.
Kruth is talking about 15-year-old OCR guidance that tells schools they must respond to "harassment" alone – not "unlawful harassment." OCR reiterated its ridiculously broad conception of sexual harassment in its "blueprint" agreement with the University of Montana in 2013, Kruth notes:
As FIRE and other free speech advocates noted, the agencies' new definition encompasses a huge range of constitutionally protected expression. Disappointingly, colleges across the country are, indeed, adopting policies that mirror the "blueprint," infringing on student and faculty rights to freedom of expression.
The more committee chairmen that pile on Lhamon's empty justifications for her office's five-year violation of regulatory procedures – with real and harmful consequences for students caught in the cross hairs of Kafkaesque kangaroo courts – the better.
RELATED: Free Speech Advocates Alarmed by New Federal Sexual Harassment Rules
RELATED: UT-Austin seeks to expel male student for alleged off-campus sex assault with non-UT student
Like The College Fix on Facebook / Follow us on Twitter
IMAGE: US Department of Education