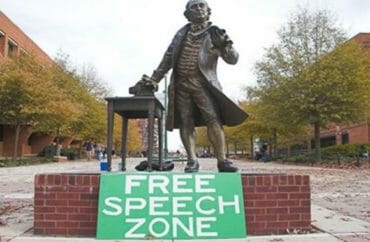 Universities have established 'a police state on campus,' legal group says
A nonprofit dedicated to free speech and civil liberties sent letters to twelve universities which demanded that they change their free speech policies to protect student voices.
The Southeastern Legal Foundation informed twelve universities recently that their policies "operate to deter conservative and libertarian students from sharing their views on campus."
Specifically, campus "[b]ias reporting systems and bias response teams stifle free expression by establishing a police state on campus, where students who cannot bear to hear views they disagree with report their conservative and libertarian classmates to campus administrators." Bias systems and teams allow individuals to anonymously report complaints about other individuals.
The letters ask for the policies to be abandoned or revised to ensure that students have the ability to speak their minds in their college setting.
So far two universities have acknowledged receipt of the letters and said they are reviewing them in comments to The College Fix. Erin Bricker, director of district and community relations at Santa Rosa Junior College, said in an email the school is "consulting with legal counsel to ensure that our policies are appropriate."
Southern Utah University spokesperson David Bishop said the institution has "received the letter" and is "considering next steps."
The letters are the first step in fixing policies, according to Cece O'Leary, who directs campus free speech efforts for the legal nonprofit.
"The more people administrators hear from—attorneys, students, members of the public—the more likely they are to listen to our concerns and make the changes we are seeking," O'Leary told The Fix via email.
"In just one week, several universities have already agreed to review the unconstitutional policies on their campuses," O'Leary told The Fix. "We are monitoring each campus closely to ensure that they make those changes."
She stated further:
As students know all too well, censorship has been on the rise on college campuses over the years. Colleges are no longer the marketplace of ideas they once were. Through these letters, we are demanding that colleges revise their unconstitutional policies, and we are also educating students on those campuses about their First Amendment rights.
The other recipients of letters are: the University of Maine, Clemson University, Louisiana State University, Illinois State University, the University of South Carolina, Rutgers University, Miami University (Ohio), Iowa State University, the University of Wisconsin-Milwaukee and Bowling Green State University.
The Fix contacted all the schools in the past week and asked for comment, but no others responded besides Southern Utah and Santa Rosa.
MORE: Check out the Campus Cancel Culture Database
Some letters addressed vague policies, such as Illinois State's requirement that student flyers gain approval for "message content."
"By failing to clearly define and limit 'message content,' the University forces students to guess what messages will be approved or denied by campus administrators," the letter stated. "And even more dangerously, the policy lacks any guidelines for those administrators to follow when approving or denying posters. This paves the way for administrators to discriminate against speakers based on viewpoint and content."
Similarly, in letters to Rutgers University and the University of Wisconsin-Milwaukee, SLF highlighted the threat the college's bias reporting system posed to the First Amendment by claiming it gives school authorities too much discretion over the content of student speech.
In other letters, SLF raised concerns about school tabling policies at the Iowa State University and harassment policies at Clemson University.
MORE: Conservative students' anti-Marxism display shut down at public college
IMAGE: D.C. John/Flickr
Like The College Fix on Facebook / Follow us on Twitter