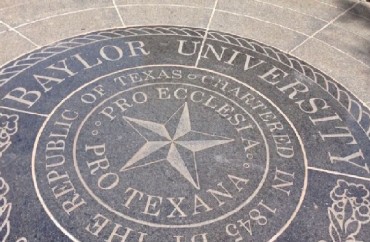 OPINION: Why the GAY group seeking official recognition at Baylor should not be approved
In the wake of Matt Walsh's pro-traditional morality speech on campus last April, Baylor University has been pressured to charter an LGBT student organization, Gamma Alpha Upsilon, or GAY.
The calls have come primarily from major media outlets, among them the Houston Chronicle, Dallas Morning News, Texas Tribune and Newsweek.
As one would expect, the media has spun this story to fit a predetermined narrative. I was interviewed for three of these pieces (Houston Chronicle, Texas Tribune and Newsweek), and can say without a doubt that the way this story is being portrayed is ideologically driven.
A common theme throughout the articles is the claim that GAY wants official status on campus merely to meet and express themselves peacefully, and that Baylor is unjustly discriminating against them.
This is untrue, and I believe the authors of these pieces are fully aware of it.
GAY regularly acts in defiance of Baylor's rules for student organizations seeking charter. As someone who has been through this process successfully, I can confirm that these rules are usually strictly applied. But Baylor Student Activities seems far laxer toward GAY than other organizations on campus.
For example, student organizations are not allowed to have social media accounts when going through the charter process. During Young Americans for Freedom's first application in the fall of 2017, we were forced to deactivate our Twitter account and were not allowed to reactivate it until we received our charter several months later.
Despite this rule, GAY maintains active Twitter and Instagram accounts today, which they regularly use to incite their members and followers against groups with whom they disagree.
Further, unofficial organizations are not allowed to advertise or meet on campus. Even official organizations are only allowed to do these things with approval from student activities.
Apparently GAY does not believe these rules apply to them, as they advertise their meetings on campus through flyers and chalking as though they are a recognized group. Not only that, they hold meetings on campus.
Yet when Baylor YAF once held a meeting on campus in fall 2017 before it was officially approved we were told by school officials not to do it again.
To add insult to injury, GAY regularly tears down flyers of recognized student organizations they disagree with. Specifically, their members tore down dozens of flyers advertising Walsh's speech, with one member going so far as to write an op-ed in The Baylor Lariat claiming it was a First Amendment right to do so.
Not only that, they replaced the university-approved Walsh flyers they tore down last semester with unapproved flyers calling him names and questioning why "someone who is for undermining the American Constitution" was allowed to speak on campus.
Furthermore, their members and other affiliated students have harassed and threatened myself and other YAF members because of our ideological differences. If we tweet, we're called homophobes and bigots. There was also a threat on one of our meetings before Walsh came to speak. We have turned screenshots and other proof of this into campus officials because I don't believe they should be chartered. They don't follow the rules.
I am not altogether opposed to a group that wants to discuss the challenges facing Christianity and the LGBT community at Baylor — one of the largest Christian universities in the nation. It's the tactics of GAY I am calling out.
To be clear, I am not suggesting that GAY itself is intentionally directing people to do these things. I have no evidence to that end. But if several rogue actors from a conservative campus group were doing this, there is no doubt that the entire group would be held accountable, so why isn't GAY held to the same standard?
I've given each reporter I've talked to the same information I've given to campus officials on this double standard and ongoing problem. The information was either refused or ignored in all the articles.
Baylor should continue to stand strong and refuse to charter GAY despite the firestorm of biased, ideologically driven media coverage. Their prior conduct – not their status as an LGBT organization – makes them a detriment to the Baylor community. This behavior would no doubt worsen if they were rewarded with official status, putting organizations like YAF in jeopardy.
MORE: Pro-marriage talk at Baylor countered by alternative 'Love Feast' event
Like The College Fix on Facebook / Follow us on Twitter