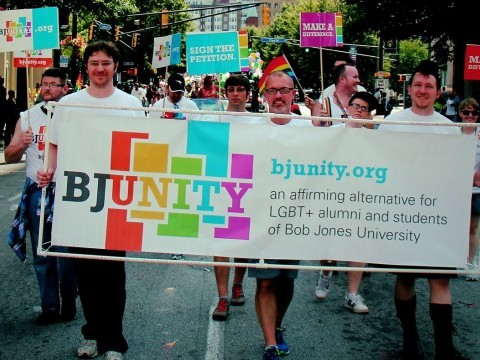 Still not given permission to host campus forum on gay Christians
It took 35 years for the chancellor of Bob Jones University to apologize for saying that "it would not be a bad idea" if gay people "were stoned … as the Bible commands."
Yet he only did so after three years of pressure from an LGBT group composed of students, alumni and faculty at the fundamentalist Christian university in South Carolina.
BJUnity scored its first victory just two days before its first public event, featuring a prominent gay evangelical author.
The group created a Change.org petition in 2012 asking Bob Jones III to apologize for his remarks on stoning homosexuals following a 1980 visit to the White House, when he was BJU president. The petition lists 1,914 signatures.
"I take personal ownership of this inflammatory rhetoric," Jones said in a statement posted on the university's public relations blog March 21.
"This reckless statement was made in the heat of a political controversy 35 years ago," the statement continues. "I cannot erase them, but wish I could, because they do not represent the belief of my heart or the content of my preaching. Neither before, nor since, that event in 1980 have I ever advocated the stoning of sinners."
BJUnity said it was "grateful" that Jones "has taken responsibility" for "words that have caused deep harm for many more people than any of us knows."
The group, however, might have gotten an apology sooner had it made a formal request: The PR blog said the university only received the BJUnity petition "earlier this week."
Though BJUnity wrote Feb. 13 that it had "still received no acknowledgment or apology" from the administration after three years of activism, Greenville's WSPA reported that the group only sent the petition "about a week" after it had secured "more than 2,000 signatures."
Jeffrey Hoffman, executive director of the group, told The College Fix by phone that the school was notified by email when BJUnity first launched the Change.org petition.
He confirmed the group didn't actually send it – the 1,914 signatures on Change.org plus paper signatures from others – until last month, along with a "cover letter" to invite the administration to BJU's first public event.
The petition's Change.org page says that it reached 1,500 signatures two years ago.
Hoffman told WSPA that "this is the time to start to talk about how to make Bob Jones University safer for its LGBT students."
Plans for more events following gay Christian author and panel discussion
Currently BJUnity has 200 members and is growing, Hoffman told The Fix.
"We don't have an overall agenda but our mission is clear," said Hoffman. BJUnity's mission states that it, "Provides a safe harbor—a network of people and resources—for lesbian, gay, bisexual, transgender, queer, questioning, intersex and straight affirming people affected by fundamentalist Christianity."
The group confronts anti-gay attitudes with dignity and love to promote dialogue and change, and accepts people of all religious beliefs, Hoffman said. He added that some BJUnity members are only open to him about their sexual identity.
Though BJUnity is based in New York where Hoffman and several other board directors are located, the group held its first event March 23 in Greenville, home of the university.
It featured Matthew Vines, a Harvard student who became famous from his YouTube video about being a gay Christian. He's author of God and the Gay Christian: The Biblical Case in Support of Same-Sex Relationships.
"Matthew's love for Jesus Christ, his careful approach to the Bible, and his gentle nature have won him admiration and respect from friends and critics alike," said Hoffman on BJUnity's website.
A panel discussion with BJUnity members who had experienced harassment followed Vines' speech. Both are available as an audio stream from BJUnity's Facebook page.
Christopher Parker, a panel member, went to BJU for one semester before transferring to Anderson University, a Southern Baptist school. "I tried to commit suicide twice when I was in college because I did not want to be the person I was, a person who was gay," he said.
When people harass homosexuals, "I try to understand where they are," Hoffman said to The Fix. "I am a Christian myself and I speak from alternative interpretations of the Bible that are equally valid to theirs."
Hoffman hopes to have more events aimed at bridging the gap between gays and heterosexuals in the church.
This summer BJUnity will participate in the PRIDE festivities in Columbus Ohio's Goodale Park.
It's also working with OneGordon, a LGBT group of alumni, students, faculty and staff at evangelical Gordon College. The college hosted David Gushee, a professor of Christian ethics at Mercer University, last week to speak about LGBT inclusion in the church.
Severe sanctions for violating school policy
BJU's student handbook states: "We believe that Christian marriage has only one meaning and is defined by God in His Word and that His Word limits the definition of marriage to the joining of one man and one woman in a single, exclusive union."
Appendix H of the handbook says homosexuality is "sinful and offensive to God," though the student covenant at the end of the handbook – which students are required to sign – doesn't explicitly mention homosexuality.
BJUnity was formed after several students were expelled for "coming out of the closet," Hoffman told The Fix.
The school takes severe action when it believes students or employees have violated its principles.
In one letter dated April 2009, Alumni Relations Director Jeff Hargraves told alumna Elena Kelly she had been kicked out of the alumni association in light of her "position," though it's not clear what that refers to.
"To question how [God] made us and take action against His will is in direct violation of biblical truth," Hargraves wrote. Kelly wrote back comparing herself to a "eunuch" who is still accepted by God.
Hannah Goodman lost her job for "violating university policy" and was told she could come back on campus a year later if she had "reestablished your testimony," according to a 2005 letter.
BJUnity says under its "documentary evidence" column that Goodman had told a colleague she liked The Patriot, which is rated R.
"They punish students," Hoffman said of the administration when students allegedly violate rules. "Some are told that they are not welcome on campus or will be arrested if they come on. Students that have been kicked out have to petition to visit their family members on campus."
BJUnity has tried to host a campus forum to educate students on gay people, Hoffman said. "They don't mention us by name or acknowledge us so it will not happen anytime soon."
College Fix reporter Samantha Watkins is a student at Point Loma Nazarene University.
Like The College Fix on Facebook / Follow us on Twitter
IMAGE: zizzybaloobah/Flickr