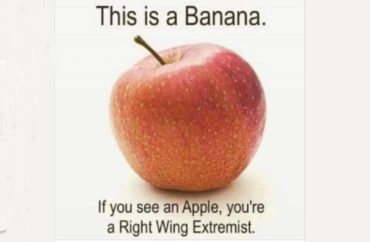 One student condemns 'dangerous' meme
LGBT students in California are triggered and want to see a Hispanic trustee removed from a community college board for the conservative memes he posts on his LinkedIn.
Luis Reynoso, a trustee on the Chabot-Las Positas Community College board, is facing criticism for jokes and cartoons that appear to poke fun at transgenderism.
The self-professed Catholic posted a photo of an apple with the caption "This is a banana, If you see an apple you're a Right Wing Extremist," apparently poking fun at individuals who are one sex but claim to be the other sex.
"It's a very dangerous thing for an elected public official to be making those comments," student Hayden Sidun told an NBC affiliate. He and others want to see Reynoso resign. "For someone to be leading a community college district, I feel like that is really harmful to the students and faculty who identify as openly LGBTQ," Sidun complained.
Kyle Johnson, who previously attended the community college but now attends University of California Davis, agrees. The Las Positas College student newspaper describes him as "a member of the LGBTQ+ community."
"Hi. I would like to note that this picture is commonly used as an Anti-Transgender joke," Johnson wrote on Reynoso's LinkedIn post. "I am hoping that as a trustee for the Chabot Las Positas Community college school district, that you are not posting this type of content in a harmful anti-LGBTQ+ way."
"It's only harmful to common sense if you think the apple is a banana," the trustee replied.
"Luis Reynoso speaking as one of your students, it's harmful and insulting to the student bodies you were elected to lead that you would speak about them and their personal identities in such a demeaning way," Sidun commented. "Your opinion of the identity of transgender people is equally ridiculous and irrelevant to my opinion of your identity as a man, because no one has any right to determine or judge the identity of others."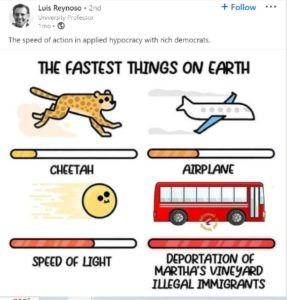 Johnson, the former student, demanded that Reynoso show his support for homosexual and gender-dysphoric students to prove he was not making an anti-LGBTQ statement. "Validate trans identities," Johnson wrote. And later down in his comment he told Reynoso he "need[s] to affirm [his] support."
A College Fix review of Reynoso's LinkedIn found a number of conservative memes about Bill Gates, climate change, illegal immigration and liberals and Democrats in general.
The board of trustees called Reynoso's comments "hateful" but defended his free speech rights in a statement to NBC's affiliate. "The first amendment enshrines free speech as a basic right, even when that speech is considered hurtful, hateful, and goes against the very values of our institution," the board said in a statement. "The best way to counter ideas that many find dangerous is with actions that foster a culture of diversity, equity, inclusion, accessibility, and belonging."
MORE: Trump won because of memes, Harvard panel concludes
IMAGES: Luis Reynoso/Linkedin
Like The College Fix on Facebook / Follow us on Twitter