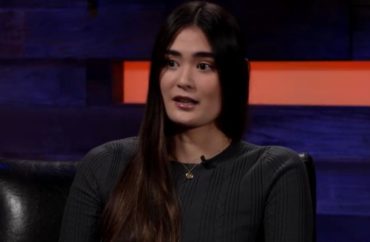 'Universities want their agenda pushed into everyone's mind and they don't care if you have a different opinion'
The University of Pennsylvania wanted to silence dissent amongst the women's swim team when it came to William "Lia" Thomas, according to Paula Scanlan, a former Penn swimmer.
Scanlan previously spoke anonymously to Matt Walsh for his "What is a Woman?" film, but recently decided to identify herself for another interview with the Daily Wire host. She graduated from Penn in 2022.
She said that Penn "wanted us to be quiet" about any criticism of Thomas joining the women's team, which included being in the locker room as female athletes undressed. Scanlan revealed that the female swimmers first learned about Thomas joining the women's team after he led a meeting in September 2019 where he explained he would begin competing as a woman.
Scanlan said that her teammates were told that Thomas would possibly change in a separate area, such as the men's locker room. But then, without warning or "further discussion," Thomas was allowed into the women's locker room.
"It was definitely uncomfortable," Scanlan said. She said some of her teammates resorted to changing in the bathroom stalls. She recounted how she would normally "jump a little bit," if she heard a man's voice in the the locker room and would have the same reaction when Thomas spoke. He did not seem to be aware of how uncomfortable other people would be.
A teammate of Lia Thomas appeared in What Is A Woman anonymously. A few days ago she came to us and said she is ready to come out publicly and tell her story. I had a longer conversation with Paula where she revealed a number of details that weren't covered in the film. Watch: pic.twitter.com/wlknGmslJC

— Matt Walsh (@MattWalshBlog) June 5, 2023
"There were girls that were left off the bus," if Thomas had not joined the team, Scanlan said, in a discussion about how her teammates felt. She shared that one swimmer "went crying to the athletic department," over the situation but returned "completely onboard" with Thomas being on the team.
"There was something going on in that athletic department that wanted to keep us quiet," Scanlan told Walsh. She said it was "getting scary."
She recounted how soon after there was a meeting with the swimmers when athletic department staff told them not to talk to the media – "you'll regret it," Scanlan said the swimmers were told. She said Penn offered them "counseling services" to help them "be okay" with Thomas swimming.
The Penn swimmer dismissed the idea that because Thomas was on the team, everyone had to support him because that's what a team does. She compared it to cyclist Lance Armstrong's teammates, who she guessed, did not support him doping to gain an advantage.
"If you see something unjust and something wrong, you can't be quiet about it," Scanlan said.
"If I see something unjust I need to speak about it," she added. After the meeting with athletic department staff, Scanlan said her conversations with her teammates ended, even though many have previously expressed criticism of Thomas. "They really scared us," she said.
"They continued to just tell us that our opinions were wrong," she said. She called the whole situation "frightening."
The university "effectively silenced us…talking to each other."
She then described how as a Catholic she went to talk to a leader in the Catholic community. "Lia Thomas is in pain," she said.
"I don't feel hate toward Lia," she said, recounting her struggles with how to handle the situation. She said the campus church's opposition grew to Thomas over the injustice of the situation.
The swimmer criticized the Ivy League and the NCAA for failing to step in and "do the right thing."
"These institutions failed us," Scanlan said.
She continued to tell Walsh that she felt disappointed that her college did not provide a room for debate and free speech.
"Universities want their agenda pushed into everyone's mind and they don't care if you have a different opinion," she said.
One way this manifested itself is how The Daily Pennsylvanian, the student newspaper, handled an opinion piece that it solicited from her on the topic but it gave her a "list of rules" she had to follow, which included using "preferred pronouns." Her opinion piece barely focused on Thomas but targeted the NCAA's decision-making process and lack of good data, in her opinion, when it came to developing its policies on men competing against women.
The paper "retracted" the piece "45 minutes" after it was published. She was told by an editor at the newspaper that "half the staff" had threatened to quit over the "transphobic" article.
She said it is "scary" how "we can't even have a discussion."
"Women have to fight for this ourselves, it's our spaces, it's our sports."
MORE: Riley Gaines fights for female athletes – watch the interview
IMAGE: Matt Walsh/Twitter
Like The College Fix on Facebook / Follow us on Twitter