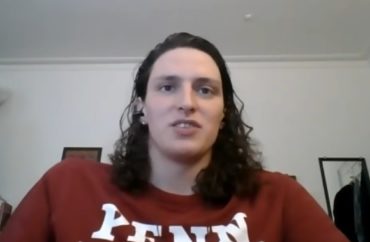 The University of Pennsylvania student paper completely ignored its own link to an original story regarding UPenn women's swimming's "support" of transgender swimmer Lia Thomas.
The February 2 Daily Pennsylvanian article is cleverly titled "Penn women's swimming declares full support for transgender teammate Lia Thomas."
"We want to express our full support for Lia in her transition," the statement reads. "We value her as a person, teammate, and friend."
And that's all the DP reports — except for noting the statement contradicts what an anonymous swimmer had told Fox News regarding Thomas: "The sentiments put forward by an anonymous member of our team are not representative of the feelings, values, and opinions of the entire Penn team, composed of 39 women with diverse backgrounds."
But here's the problem: The team's statement of support itself is anonymous (not signed by any athletes), and merely "represents 'several' members of the team." This, according to a UPenn spokesperson as reported by ESPN.com.
The DP links to the ESPN story, but for some reason doesn't include this (significant) bit of information in its own article.
MORE: The College Fix's higher education cartoon of the week #UPennSwimmer
Penn Athletics refused comment for the DP article.
In addition to this new anonymous statement by "several" of her teammates, Thomas has received support from her college, UPenn law groups, Harvard and the Ivy League.
However, Outkick had interviewed several of Thomas' teammates (anonymously) last month, and they described "a sense of hopelessness" as well as being "upset and crying, knowing they were going to be demolished" (by Thomas).
Of note, USA Swimming issued new eligibility guidelines on February 1 regarding the participation of transgender athletes in "elite" events. They apply to those "seeking to set records in the 13-14 age group and older, or those who wish to set American records."
In a statement, USA Swimming said "The development of the elite policy therefore acknowledges a competitive difference in the male and female categories and the disadvantages this presents in elite head-to-head competition."
MORE: 'Men are different from women': USA Swimming official resigns over transgender victories
IMAGE: Swim Swam/YouTube
Like The College Fix on Facebook / Follow us on Twitter