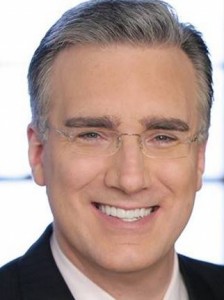 Longtime commentator and former MSNBC anchor Keith Olbermann, who made a sport out of bashing conservatives and Fox News for years, has been suspended by ESPN for a week for mocking Penn State students, calling them "pitiful" and dumb in a series of tweets.
Olbermann, in his tweets, "dismissed PSU students as 'pitiful' despite raising $114 million for the fight against pediatric cancer," Mediaite reports.
The Los Angeles Times suggests the situation may stem from an incident last month during which "the 'Olbermann' host went on a tirade against the settlement between Penn State and the NCAA that restored the football wins that had been stripped from the program in the aftermath of the Jerry Sandusky child molestation scandal."
"Possibly in response to those remarks, a woman tweeted Olbermann a link to a news story about a Penn State charity event that raised more than $13 million to help support children and their families fighting pediatric cancer," the Times reports. "She also included the first two words of the school's signature chant, 'We are Penn State!' To which Olbermann replied in a tweet, '….Pitiful.'"
According to Olbermann's Twitter feed, when a student called him on his comment, the commentator replied: "No, Son. I said PSU students were pitiful. Had nothing to do with fundraising."
A later tweet sort of doubled down on his comments:
I'd like to thank the students and alums of Penn State for proving my point about the mediocrity of their education and ethics.

— Keith Olbermann (@KeithOlbermann) February 24, 2015
Now he has been suspended.
ESPN said in a statement that the comments were "completely inappropriate and does not reflect the views of ESPN."
"We have discussed it with Keith, who recognizes he was wrong. ESPN and Keith have agreed that he will not host his show for the remainder of this week and will return on Monday. The annual tradition of THON and the efforts of the students of Penn State to fight pediatric cancer should be applauded."
Olbermann also apologized in a tweet Tuesday, saying:
I apologize for the PSU tweets. I was stupid and childish and way less mature than the students there who did such a great fundraising job. — Keith Olbermann (@KeithOlbermann) February 24, 2015
Like The College Fix on Facebook / Follow us on Twitter