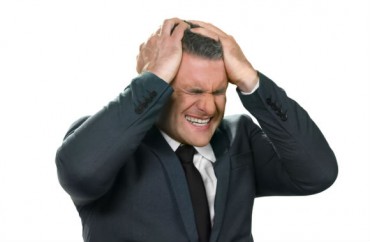 UPDATED
Stanford's president 'fueled a dishonest narrative'
It's been an interesting few days at Stanford Law School. First, protesters shouted at and heckled Fifth Circuit Judge Kyle Duncan at a Federalist Society event.
And then Law School DEI Dean Tirien Steinbach intervened … and ended up making things even worse by sympathizing with student disrupters and questioning whether free speech is "worth the squeeze."
Stanford President Marc Tessier-Lavigne and Law Dean Jenny Martinez ended up issuing an apology to Judge Duncan … but then the acting dean of students rather hilariously recommended that Federalist Society members seek out Dean Steinbach for support if needed.
Now, the Stanford chapter of the progressive American Constitution Society is blaming, yes, Judge Duncan for last Thursday's raucous happenings.
In a letter to Tessier-Lavigne and Martinez, the ACS Board said the two officials' apology "fueled a dishonest narrative" that was "circulated by Judge Duncan and right-wing media."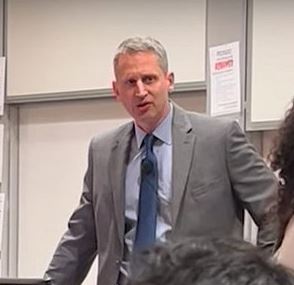 "The [Stanford] administration's statement frames Judge Duncan (pictured) as a victim, when in fact he himself made civil dialogue impossible," the board said. As proof, it cited a protester at the event who said Duncan "seemed to be looking for a fight" (emphasis added), and the fact that Duncan had entered the room taking cell phone video "like a YouTuber storming the Capitol."
Further evidence included the judge reacting to the hecklers by calling them "appalling idiots," and "mocking" and "dismissing" some of their questions.
MORE: Stanford: Conservative students can contact diversity dean – who helped shut down their event – for 'support'
As for the protesters who were berating Duncan from the moment he arrived, the ACS said they were merely "defend[ing] valued members of the [Stanford Law] community against verbal abuse from a powerful man."
Tessier-Lavigne's and Martinez's apology also "misconstrues the power dynamics at play" during the Duncan event, and opens up those who protested the event to "harassment," the ACS added.
The ACS letter concludes: "You also have run the risk of chilling our collective freedom of expression by signaling that [Stanford] sides with people who disenfranchise marginalized communities over the disenfranchised themselves […] we hope you will clarify that Judge Duncan's behavior does not meet the standards this university expects from invited speakers and express [Stanford's] unequivocal support for the dignity of trans and queer students."
Stanford's @acslaw disputes the Dean's apology letter to Judge Duncan. "The administration's statement frames Judge Duncan as a victim, when in fact he himself made civil dialogue impossible." pic.twitter.com/eFo7Fo0dH6

— Nicholas Wallace (@n1n2w3) March 13, 2023
The Free Beacon reports that on Monday, Martinez was protested by "hundreds of student activists" in a lecture hall corridor for the apology letter, and her classroom whiteboard (below) was completely covered in fliers demanding to know where Duncan's apology — and theirs — were. Other placards claimed "counter speech" also is free speech, and that her students were "sorry for exercising [their] 1st Amendment rights."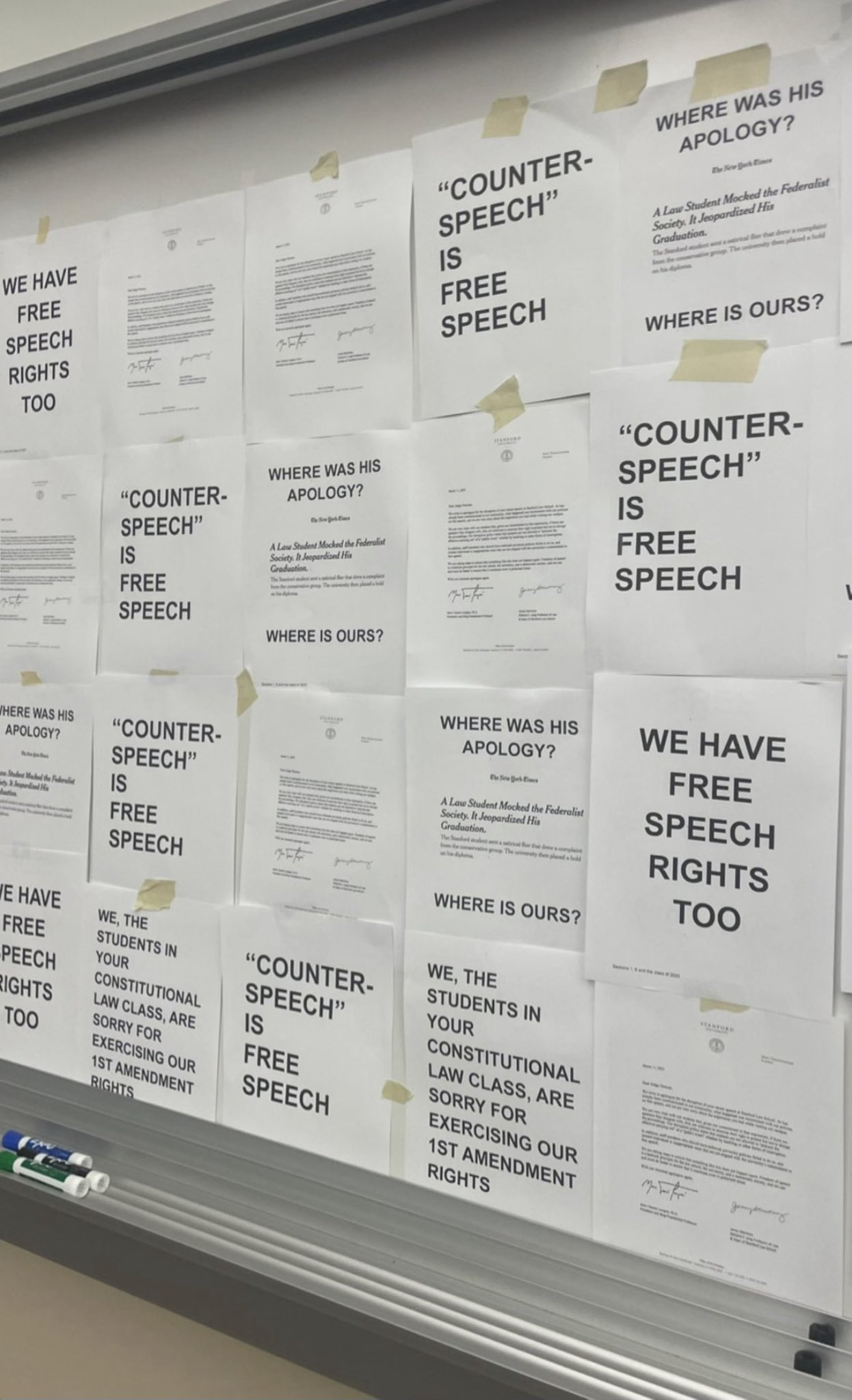 UPDATE: This article was amended to include news of Stanford Law students protesting Dean Martinez on March 13.
MORE: Stanford Law DEI dean, rowdy student protesters berate federal judge invited to give speech
IMAGES: DenisFilm/Shutterstock.com; RodDreher, Aaron Sibarium/Twitter screencaps
Like The College Fix on Facebook / Follow us on Twitter