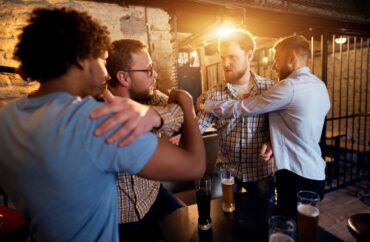 Civility toward political opponents is like civility toward 'someone who just stabbed you,' according to a participating liberal 
Politically liberal people's lesser empathy toward conservatives stems from their tendency to engage in harsh moral judgment of political opponents.
"In four studies, U.S. and U.K. participants . . . read hypothetical scenarios and extended less empathy to suffering political opponents than allies or neutral targets," according to a Sept. 15 paper by researchers from the University of Queensland in Australia.
"Conservatives consistently showed more empathy to liberals than liberals showed to conservatives," the abstract stated.
Samuel Abrams, a fellow at the American Enterprise Institute and political science professor at Sarah Lawrence College, commented on the study's findings in an email to The College Fix.
Liberals "do not love difference, disagreement, or outsiders," he said.
"In collegiate spaces this is particularly dangerous . . . given the large numbers of liberal faculty and administrators who . . . reject viewpoint diversity and treat conservative thought and thinkers as the enemy," Abrams continued.
On Sept. 20, The Fix emailed the authors, James Casey, Eric Vanman, and Fiona Kate Barlow, and the Brookings Institute to inquire about the implications of this research for governance in the United States. Barlow responded and referred The Fix "to the lead author of the study." No others replied.
The authors, psychology professors at the University of Queensland, found "liberals saw conservatives as more harmful than conservatives saw liberals."
The researchers enlisted participants from the United States and the United Kingdom, which "is similar politically to the United States (both two-party democratic systems, strongly politically polarized)," according to the paper.
"Participants read a description of a target person . . . who was employed as an assistant manager in a retail store and married with a young child," according to the paper.
The person was described as a "conservative Republican or a liberal Democrat . . . Next, the participant read one of four scenarios describing the target person suffering in some way (e.g., having a sprained ankle)," it stated.
Participants, who self-identified their partisan affiliation, then answered questions or indicated agreement or disagreement with statements to gauge empathy: "How do you feel about this person?" and "I can imagine how this person would be feeling and I can understand what this person would be going through," according to the paper.
The results showed that "liberals judged conservatives more harshly than conservatives did liberals, seeing them as more immoral and less likable" and resulting in lower empathy.
"If liberals will not extend empathy to conservatives who are suffering, it seems that the problem lies with liberals," according to the researchers while discussing the possible implications of their work.
"On the other hand," the researchers continued, "we have argued that much of the difference in empathy is because of differences in perceptions of harm caused by the opponent's political group."
These perceptions, the researchers argued, may be reasonable.
For example, "as one participant commented, 'It's like trying to remain civil to someone who just stabbed you.'"
The researchers noted that other research has shown liberals tended to self-assess themselves as more empathetic and to show less prejudice toward "low-status, disadvantaged" groups. These groups, however, tended to be "aligned with politically liberal causes."
MORE: Pew Research poll: Liberals more likely to see 'cancel culture' as a tool for good
IMAGE: Shutterstock/Dusan Petkovic
Like The College Fix on Facebook / Follow us on Twitter