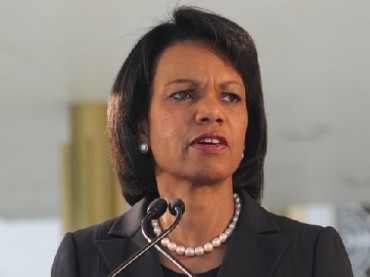 Incessant gripes by liberal students and professors against former Secretary of State Condoleezza Rice as a commencement speaker at Rutgers University – including a faculty resolution labeling her a war criminal, calls for administrators to disinvite her, and a sit-in protest – has prompted Rice to withdraw from accepting the honor.
"Commencement should be a time of joyous celebration for the graduates and their families. Rutgers' invitation to me to speak has become a distraction for the university community at this very special time," Rice said in a statement published Saturday by National Review Online.
"I am honored to have served my country," continued Rice. "I have defended America's belief in free speech and the exchange of ideas.  These values are essential to the health of our democracy. But that is not what is at issue here.  As a Professor for thirty years at Stanford University and as it's former Provost and Chief academic officer, I understand and embrace the purpose of the commencement ceremony and I am simply unwilling to detract from it in any way."
"Good luck to the graduates and congratulations to the families, friends and loved ones who will gather to honor them."
The decision comes on the heels of a campus protest Monday against Rice's pending visit.
"Photos and videos of Monday's protest posted to Twitter showed students lining a staircase leading to University President Robert Barchi's office," Fox News reports. "Some students held up signs reading, 'No honors for war criminals,' 'War criminals out' and 'RU 4 Humanity?' The sit-in was one of the largest in Rutgers' history."
And in March, the university's faculty senate passed a resolution which claimed Rice "played a prominent role in (the Bush) administration's effort to mislead the American people about the presence of weapons of mass destruction" and that she "at the very least condoned the Bush administration's policy of 'enhanced interrogation techniques' such as waterboarding."
"A commencement speaker… should embody moral authority and exemplary citizenship … (and) an honorary Doctor of Laws degree should not honor someone who participated in a political effort to circumvent the law."
When campus officials announced Rice as an honoree earlier this year, they boasted how she was the second woman and the first African-American woman to hold the position of Secretary of State. And when the protests first launched, they staunchly defender her. More recently, they distanced themselves.
"I frankly wish from my point of view that this whole affair was not here right now because it's distracting from what great things we're doing as a university. . . . It does have us, for better or worse, right in the crosshairs right now," Rutgers' president said this week, prior to Rice's announcement.
Now a backlash against Rice-haters has emerged on social media, Twitchy reports. Brut Hume called it a "sickening development," and Monica Crowley Tweeted: "Marketplace of ideas? Nope."
Kevin Eder pointed out: "Crazy people at Rutgers don't want Condoleezza Rice at their commencement over her role in the Iraq war? Dude, WAY more than two years ago."
Jennifer Kabbany is associate editor of The College Fix. ( @jenniferkabbany )
Like The College Fix on Facebook / Follow us on Twitter
IMAGE: U.S. Embassy / Flickr