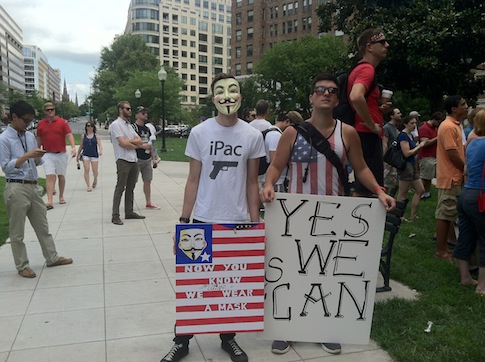 Disgruntled citizens from around the nation's capital gathered on Independence Day to rally against the U.S. government's domestic surveillance practices at a protest inspired by recent revelations of the breadth of these programs.
"The abuse of power isn't the problem," Carla Howell, executive director of the Libertarian Party, told a crowd in downtown Washington, D.C.'s McPherson Square. "The problem is the power to abuse."
The Libertarian Party was an official sponsor of Thursday's Restore The Fourth protests, Howell said. Besides the one in Washington, Restore The Fourth saw events take place in cities around the country, including New York, Denver, Los Angeles, and Chicago, according to the organizers' website.
Howell and a roster of other speakers decried the National Security Agency's now notorious PRISM program, the use of drones for domestic surveillance, and the FBI's warrantless searches and seizures, among other alleged abuses. By turns, they commended whistle-blowers, including Edward Snowden, who have revealed what Thursday's crowd viewed as violations of the Constitution's Bill of Rights.
CodePink co-founder Medea Benjamin, who was arrested last week at a White House protest against the Guantanamo Bay detention camp, invited the crowd to send letters to Bradley Manning and attend his trial, in which he is being tried for multiple crimes after releasing government secrets to WikiLeaks in 2010.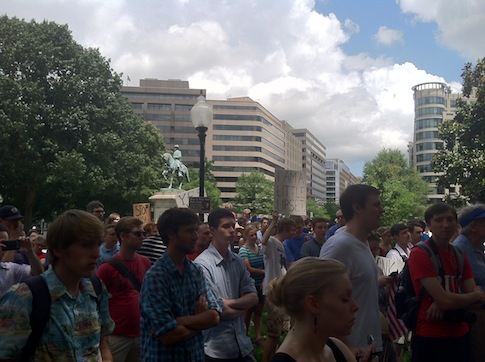 She was seen later chatting with Thomas Drake, an earlier NSA whistle-blower who also spoke at the event.
"It's very encouraging to know that we're having rallies all over the country. It's about time — I mean, my gosh," Drake told The College Fix. "We have to shake the tree of liberty, and that's what's happening right now."
Protesters came from around the region to demonstrate on Thursday, some carrying signs and wearing Guy Fawks masks. When helicopters flew overhead, eyes turned upwards, but police presence was low and no arrests were observed.
Julie Ershadi is a graduate of Bryn Mawr College
Click here to Like The College Fix on Facebook  /  Twitter: @CollegeFix
(Photos by Julie Ershadi)