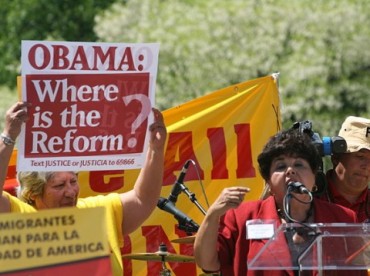 Libertarians might be just as worried about demographics as conservatives and Republicans are right now.
Something between 1,200 and 1,400 students, alumni, and supporters gathered at the Grand Hyatt hotel in downtown Washington, D.C. for the 2013 International Students For Liberty Conference (ISFLC 2013) this weekend. One of the dominant themes of conversation, from the escalators to the ballroom, was how to entice more ethnic, social and cultural minorities to embrace libertarianism.
In a 2011 survey by the Pew Research Center, 67 and 85 percent of respondents who identified as libertarian also identified as male and white, respectively.
In the mainstream politics, the demographic statistics delineating the Democratic ticket's back-to-back triumph in the past two presidential elections now form a crucible for the Republican Party's survival. Similarly, at the conference activists from across the libertarian spectrum — anarchists, minarchists, voluntaryists, classical liberals, so-called big-L Libertarians who vote and campaign with the titular national party, and Republican-like conservatives — mulled over the dearth of other kinds of diversity among their collective ranks.
Of 96 breakout sessions, at least 7 dealt in some way with drawing different social groups into the free-market fold. Examples include a lecture on the libertarian tradition in black American history, 2 separate panels on the apparent lack of women who identify as libertarian, and panels on classical liberal approaches to the politics of immigration and homosexuality in American society.
The lineup was not a total departure from the last conference, but alongside panels on the familiar subjects of Rawlsian political theory and Austrian economics, the focus this year doubled down on strategies for promoting libertarianism as it pertains to the very social groups who turned out the most for Obama in 2012.
As Brandon Cestrone, the field executive and director of data for Young Americans for Liberty (YAL), put it while speaking from the stage before the closing ceremony, "If we don't grow, we die."
YAL is a pro-liberty organization active on college campuses nationwide and partners with the similar Students For Liberty (SFL), the organization that puts on the international conference every year since 2008.
Cestrone's warning echoes the post-election hyperventilation of Republicans, such as House Majority Leader Eric Cantor of Virginia, who see rebranding and expanding as necessary for their party's survival, with a policy focus on immigration reform.
In keeping with the current focus on demographics, this year's CPAC schedule shows 3 events on immigration: a book signing with former Florida Gov. John E. "Jeb" Bush, a screening of the film Border War: The Battle Over Illegal Immigration, and a panel entitled "Respecting Families and the Rule of Law: A Lasting Immigration Policy."
Fix Contributor Julie Ershadi is a graduate of Bryn Mawr College.
Image by Arasmus Photo / Wikimedia Commons
Like The College Fix on Facebook / Follow us on Twitter