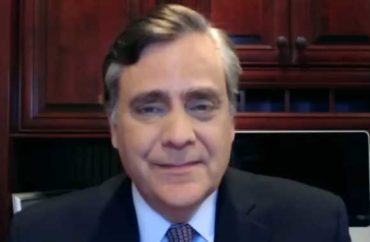 Jonathan Turley discussed his recently published analysis in an interview with The College Fix
A renowned George Washington University law professor recently called for limited government support for free speech, particularly on college campuses.
"The greatest danger is that the government will seek not to protect free speech but favor particular speech," Professor Jonathan Turley wrote in a July 16 email to The College Fix. "My proposals are structured to confine government intervention to content neutral measures that protect the diversity of viewpoints."
Turley (pictured) defended limited government action to protect free speech in an article published July 9 by the Harvard Journal of Law and Public Policy titled "Harm and Hegemony: The Decline of Free Speech in the United States."
"​​If we are to preserve this defining right, we may have to embrace the incongruous notion of coercing free speech," Turley wrote in the article.
The piece included a section on college campuses, in which Turley argued that "any effort to reinforce free speech values in the United States must focus on universities, which play a vital role as enclaves for political and intellectual discourse."
"The most chilling examples of intolerance have come from campuses of higher education," he wrote. Furthermore, "the ultimate responsibility for the erosion of free speech values in our country … rests with academics, journalists, and others who actively support actions taken against those with opposing views or stand silent."
Turley proposed in the article several solutions to free speech limitations on campuses, including making federal funding to state universities conditional upon compliance with principles of free speech.
While arguing for greater speech protections, Turley expressed some reservations about taking government involvement too far, clarifying that "any measures to guarantee free expression must also balance the countervailing rights of groups and corporations, including their anti-free speech advocacy."
Modern free speech is threatened by an overly broad definition of 'harm'
Modern challenges to free speech are distinct, in that they "can come from not just state action but also corporate and private action," he wrote.
Turley found that many attacks on free speech have used the same rationale: a broad interpretation of philosopher John Stuart Mill's "harm principle." The principle holds that freedom should be restricted only when an act is "injurious or set back important interests of particular people, interests in which they have rights," according to the Stanford Encyclopedia of Philosophy.
Whereas the principle is usually interpreted as protecting speech, some have interpreted "harm" broadly enough to limit it by arguing that certain offensive speech itself constitutes injury.
"How one defines harm can turn a libertarian principle into an authoritarian measure," Turley wrote.
However, while acknowledging that free speech has and will continue to face threats, Turley is optimistic about its future.
"Free speech is like water: it tends to find a way out. … It is in our DNA," Turley told The Fix. "These anti-free speech measures run against the natural inclination of people to express themselves and their viewpoints."
Professor Turley has long been a proponent of free speech. He most recently advocated for free speech principles in a statement to Congress on June 7, writing that "the impulse to use the criminal process to retaliate against unpopular individuals or groups rests like a dormant virus in our body politic."
MORE: Law school commencement speaker denounced Turley for defending Trump
IMAGE: Fox Business/YouTube
Like The College Fix on Facebook / Follow us on Twitter