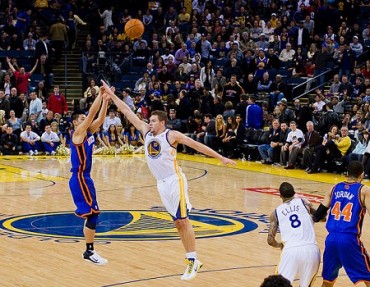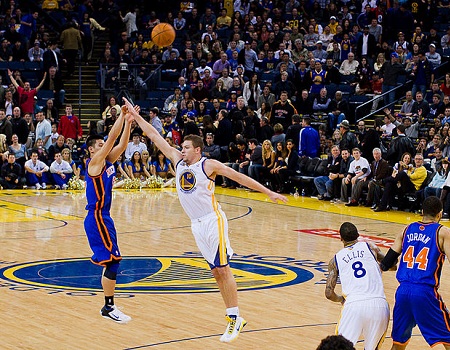 The cultural phenomenon known as "Linsanity" has taken the 2012 NBA season by storm, bringing excitement and controversy. Recently, it even cost an ESPN.com writer his job.
"Linsanity" began on February 4, when New York Knicks head coach Mike D'Antoni called in Jeremy Lin, a 23-year-old Asian-American benchwarmer who had just gotten called up from the NBA developmental league.  Lin then unexpectedly scored 25 points and seven assists.  The following game, Lin had his first professional start, and scored 28 points and added eight assists.  In the span of the next five games, Lin improbably managed to extend the Knicks' winning streak to seven, average 23.6 points and 9.8 assists, drop 38 against Kobe Bryant and the Los Angeles Lakers, hit a buzzer-beater to defeat the Toronto Raptors, all while capturing the attention and hearts of millions.
In the year 2012, it is virtually unheard of for an NBA player to come out of nowhere and dominate the degree and fashion that Lin did in February.  How did this happen? Lin attended and played for Harvard University.  He didn't receive a single athletic scholarship from a Division I team, despite leading his high school team to a California State Championship.  Following his graduation, Lin went undrafted and was signed and dumped by two other NBA teams before finally landing in New York in December.  Lin supporters have questioned how his talent could have possible gone unnoticed this long.
It begs the question: could Lin's race have been a factor in getting passed over, or is it unrelated?  Another speculation is that NBA teams have a bias against players who come from Ivy League schools.
In this day and age of instant information and social media, critical acclaim and public adoration often lead to obsessive dissection, nitpicking, and always backlash.  Lin's rise was met with an explosion of pun-laden nicknames from both the sports media world and the Internet.  Some were fun and nostalgic, including the most prevalent "Linsanity" which was derived from a young Vince Carter's nickname "Vinsanity" when he was an upcoming star in the league.
Others were more offensive and involved Lin's race, such as "The Yellow Mamba."  On Twitter, two heavily criticized tweets were posted by sports journalist Jason Whitlock and boxer Floyd Mayweather Jr., who made a sophomoric comment that evoked common stereotypes against Asians.  Mayweather stated that if Lin was black, his accomplishments wouldn't be glorified and that his race was the only reason that "Linsanity" existed.  Mayweather has since apologized for his comment.
On February 17, the seven game winning streak ended against the lowly New Orleans Hornets, despite 26 points from Lin.  However, Lin's nine turnovers caused some to question whether the "Linsanity" phenomenon was a fluke and had come to an end.  The following morning, ESPN's mobile website's front page headline read: "Chink in the Armor: Jeremy Lin's 9 Turnovers Cost Knicks in Streak-Stopping Loss to Hornets."  The headline immediately drew criticism from other sports media and the Internet community alike for its blatant use of the Asian racial slur.  It was taken down 35 minutes later, but it was clear that the damage was done.  On February 19, ESPN fired Anthony Federico, who wrote the headline, and suspended Max Bretos, an anchor who said the same phrase on-air.
ESPN released a public apology to Lin and those who were offended.  Also on February 19, the New York Knicks defeated the Dallas Mavericks on national television.  Lin responded strongly to his skeptics by scoring 28 points and 14 assists.  Upon hearing news of the situation, Lin stated that he didn't think the comment was made on purpose and that since ESPN had apologized, he didn't care anymore.  Others feel differently about the matter.
Federico has publicly apologized for his blunder, but maintains it was an honest mistake and not intended to be at all insensitive or offensive.  The reaction has been decidedly mixed.  There are those who are having a hard time believing Federico. On the other hand, there are those who believe this is an example of political correctness running amok and that Federico has nothing to apologize for in the first place.
The party that seems to be sneakily escaping the most blame is the sports news and media juggernaut, ESPN.  While ESPN did issue an apology, they essentially assigned Federico the role of scapegoat and deflected responsibility for this epic public relations nightmare.  The fact that not one editor's name has been mentioned as responsible for signing off on the headline is even more troubling.  Not one higher-up has been fired or implicated, just an unknown staff writer.  It may not be known whether his mistake was intentional or not, but it is plainly clear that he is not the sole culprit.
As Lin continues to dazzle basketball fans with his unique skill set, astound sociologists with his cultural impact, and overjoy businesses with his marketability, the journalism community will be equally ashamed and disturbed at the tremendous journalistic failure by the self-proclaimed World Wide Leader in Sports.
Fix Contributor Blake Baxter is a student at Eureka College.
Like The College Fix on Facebook / Follow us on Twitter