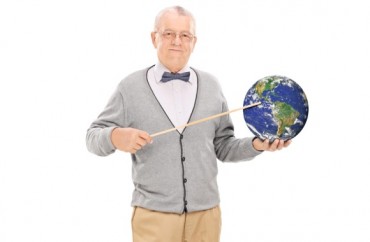 Says science journal violated its own rules – but is that illegal?
As climate scientist Michael Mann's defamation lawsuit against National Review drags into its sixth year, another climate scientist is taking on a much bigger target for criticizing his research.
Stanford University's Mark Jacobson accused the National Academy of Sciences of defamation for publishing an article this summer that questioned Jacobson's 2015 article about renewable energy, also published in the Proceedings of the National Academy of Sciences.
He's suing both NAS and the main author of the rebuttal article, Christopher Clack, for a hefty $10 million in damages, claiming the rebuttal was full of "major falsehoods and misleading statements" and ruined his reputation.
Jacobson highlights his academic achievements in the suit, noting his 2015 paper was one of six out of 16,000 to receive a prestigious PNAS award for "outstanding scientific excellence and originality."
The suit is riddled with Jacobson's "hurt feelings and bruised ego," Alex Berezow, the founding editor of RealClearScience and senior fellow of biomedical science at the American Council on Science and Health, wrote in a recent blog post.
He called it a publicity stunt by Jacobson: "The lawsuit has absolutely no merit, and even if it did, there is no justification for seeking $10 million in restitution."
Don't publish it – or fix these 35 errors
Jacobson's PNAS article in 2015 quickly drew skepticism for its claims that renewable energy could "100%" replace conventional energy sources "for all purposes" by 2055, using "low-cost solutions" to resolve longstanding grid reliability issues with "intermittent" wind, water and solar energy.
The form of the rebuttal to Jacobson's paper served as one of Jacobson's grounds for litigation: a six-page "Research Report" in PNAS with 13 pages of "supporting information," rather than a 500-word letter expressing a "difference in opinion."
The abstract for "Evaluation of a proposal for reliable low-cost grid power with 100% wind, water, and solar" was unsparing toward Jacobson's paper.
"This work used invalid modeling tools, contained modeling errors, and made implausible and inadequately supported assumptions," it read.
MORE: Professor beloved by Dems smacked down by peers for 'dangerous' energy plan
Today at 3:30 in Mitchell Hall: ECE Distinguished Lecture Series, Mark Jacobson of @Stanford on #RenewableEnergy! https://t.co/NxrVLm4E1N pic.twitter.com/gxfALo4ew7

— UD CEOE (@udceoe) November 16, 2016
Clack and 20 listed co-authors said the previous study "overpromises on the benefits of relying on" solely renewable energy, and following its recommendations could "seriously" slow the transition to a "cost effective decarbonized energy system."
When PNAS sent Jacobson a draft of the critique and asked if he'd like to write a letter in response, the Stanford scientist tried to shut it down entirely.
According to Jacobson's lawsuit, he warned PNAS to not publish the article and listed 30 "false statements" and five "materially misleading" statements that must be fixed "at the very least."
The PNAS board member overseeing the Clack rebuttal intentionally refused to pass along Jacobson's correction list to Clack and the co-authors after Jacobson's first request, the suit claims. Jacobson sent a "line-by-line" correction list after he received a substantially unchanged version of the draft two months later.
Most of the errors Jacobson flagged were left in the published article, "including the three most egregious ones," the suit claims.
PNAS violated its own publication policies, including "resolution of assertions of falsification and fabrication," when it published the Clack article, according to Jacobson.
The authors didn't request Jacobson's "output data" until after the article was published, and they submitted their article to PNAS more than six months after Jacobson's was published. Jacobson also said 18 of the 21 authors did not contribute "substantially" to the study, but were rather "piled on … to increase its surface credibility" and draw more media attention.
Jacobson's lawyers released a one-page statement that claimed he simply wanted "the scientific record corrected" and did not "seek to litigate science, but rather to respect and protect the process and rules" of scientific debate.
"There is no indication" PNAS followed the procedures of the Council of Publication Ethics by investigating Jacobson's pre-publication allegations that the Clack article "made several factually false material statements" about his 2015 paper.
Christopher Clack responds to Jacobson lawsuit re: renewables research pic.twitter.com/xyxMA79OpW

— Ellen M. Gilmer (@ellengilmer) November 2, 2017
'Lying is not okay'
Whatever Jacobson's grievances, he chose the wrong way to seek redress, according to a lawyer and former broadcast journalist.
Elliot Lewis, now a professor at the State University of New York-Purchase, told The College Fix that Jacobson's actions amount to "censoring and a direct violation of the First Amendment."
Jacobson's actions are a "blasphemy against free speech, free inquiry, and the scientific method," the American Council on Science and Health's Berezow wrote in his post, calling the lawsuit "obscene."
"Smart people can disagree about whether [100 percent renewable energy] is a technologically and economically achievable goal," he wrote. "The way smart (and mature) people handle their disagreements is in the pages of a peer-reviewed scientific journal. But, apparently, that's no longer how things operate in our litigious society."
MORE: Yale to implement campus-wide 'carbon charge'
Even if the Clack paper is "materially incorrect," Jacobson has not shown libel against him, and he turned down "an opportunity to respond" from the journal, Berezow wrote: Arguing PNAS violated its own policies "is puzzling, considering that PNAS could publish nothing but cat memes and fruitcake recipes, if it so desired."
While many are calling the lawsuit meritless, Jacobson has some supporters on Twitter, where he has been defending his lawsuit.
He tweeted a blog post called "Lying is not okay" by Brandon Shollenberger, who has also written about climate scientist Mann's controversial "hockey stick" theory of climate change.
"Authors willfully and flagrantly telling lies with a journals' tacit acceptance isn't a matter of science" https://t.co/wIQvEPNJYl. https://t.co/q13mm9DNAd

— Mark Z. Jacobson (@mzjacobson) November 6, 2017
"This isn't a scientific dispute," Shollenberger wrote, in a passage Jacobson tweeted: "Authors of a paper willfully and flagrantly telling lies with a scientific journal's tacit acceptance isn't a matter of science."
Clack's article invented a modeling error on Jacobson's part, when the Stanford scientist's model actually "relied on the assumption [that] the rate at which hydropower stations could send out electricity (the discharge rate) would increase while the total amount of energy they output did not":
That is, the stations wouldn't produce more electricity overall, but when sending out the electricity they had stored, they'd be able to send it out in larger amounts.
Clack was told "(at least) three separate times" that he was comparing two different numbers when he critiqued Jacobson's model, but "everyone is just crying, 'You can't sue over scientific disputes!'" Shollenberger wrote.
MORE: Syracuse socialists blame capitalism for killing environment
Asked why he took it upon himself to defend Jacobson's paper at length, Shollenberger told The Fix:
It wasn't because I think Jacobson's conclusions are correct; I don't. I think he created an overly idealistic scenario that would never happen in the real world.  But as much as I might disagree with his conclusions, I don't think he deserves to have people lie about him or his work.
Jacobson also tweeted a thread where several Jacobson defenders criticize Berezow for his views about Jacobson's lawsuit.
Since it is devoted to science, it has an overarching concern for publishing the factual truth. That may be a legal obligation as well.

— Chris Dudley (@ChrisDudley85) November 4, 2017
Like the PNAS article criticizing Jacobson's research, National Review's harsh criticism of Mann's hockey-stick theory is the grounds for his lawsuit.
Jonathan Adler, a law professor at Case Western University, wrote last month he suspects the D.C. Court of Appeals is taking so long on the case because "at least some of the judges are having difficulty with the potential breadth of the initial ruling" in favor of Mann.
The NAS told The Fix it could not comment on ongoing litigation.
MORE: Professor group wants to hide taxpayer-funded climate change research
IMAGE: Shutterstock
Like The College Fix on Facebook / Follow us on Twitter