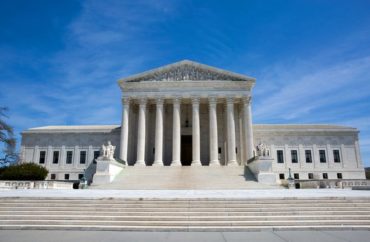 Supporters of affirmative action at Harvard University have begun a public pressure campaign supporting the race-based admissions system in the wake of a recent Supreme Court announcement that it will hear a challenge to the practice.
Harvard's Black Men's Forum has released a statement calling the case a "threat" to diversity at the Ivy League institution.
"This lawsuit threatens to undermine efforts at Harvard and universities across the country to diversify their student populations and increase access to institutions of higher learning," the group stated Jan. 25.
The Harvard Gazette, which is mailed to alumni — including four current Supreme Court justices — published a piece Jan. 27 — three days after the high court announced it would take the case — claiming the student body supports affirmative action.
It quoted only nine students and was not based on an actual survey, Powerline reported.
"No dissenting view is offered, though it's certain that the view of the nine is far from unanimous. It's also certain that many students rejected by Harvard because of their race aren't gushing about the wonders of its discriminatory policy," the blog reported.
Harvard University President Larry Bacow released a statement in support of the school's admissions process, too.
"Colleges and universities could lose the freedom and flexibility to create diverse campus communities that enrich education for all. Our admissions process, in which race is considered as one factor among many, makes us stronger," Bacow's Jan. 25 statement reads.
The ACLU was also quick to jump in.
"The goal of these suits — to end the consideration of race in college admissions — is extreme, ignores the history of race discrimination, and threatens diversity and inclusion on campuses," the group stated.
The lawsuits, filed by Students for Fair Admissions, contend white and Asian-Americans students are unlawfully discriminated against as the universities use so-called holistic admissions approaches that favor Black, Hispanic and Native American applicants even though white and Asian-American students have much higher academic achievements.
The public lobbying comes as some observers suggest the practice of affirmative action could very likely be overturned by the Supreme Court. The case is expected to be heard during the court's next term, which begins in October.
The court will consider challenges to the practice stemming at Harvard as well as the University of North Carolina.
Harvard student Amy Nichols said she believes that diversity of thought should prevail over diversity of skin color.
"I, personally, believe that a diversity of perspective, opinion, and culture is more important than diversity of skin color," Nichols told The College Fix.
She said she was adopted from China and believes that holding groups of students to a higher standard over others is "wrong and racist."
Kenny Xu, author of "An Inconvenient Minority," which exposes racial discrimination against Asian Americans at elite colleges like Harvard, said that "Asian Americans are much more than a 'diversity' box to be checked — they come with a variety of different perspectives and personalities to share with the world."
Edward Blum, president of Students for Fair Admissions, in a news release regarding the Supreme Court's decision to review the case, said that both "the Pew Research Center and Gallup have released surveys which indicate that nearly 75% of Americans of all races do not believe race or ethnicity should be a factor in college admissions."
The College Fix reached out to Harvard University, Students for Fair Admissions, and the Harvard Black Men's Forum for comment, but did not receive a response.
MORE: Harvard, concerned over visuals that center 'white men,' plans racial justice redesign
IMAGE: Steven Frame / Shutterstock
Like The College Fix on Facebook / Follow us on Twitter