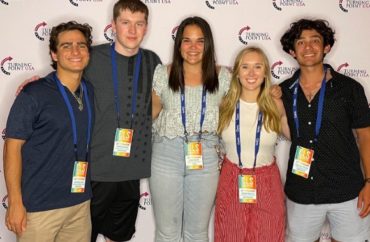 Ordered the group to stop posting on social media, bans them from meeting on and off campus.
A private New York University effectively shuttered multiple conservative groups while it undertakes an investigation against the organizations for its social media posts critical of gender ideology.
Long Island University ordered the American Club, which is a consortium of at least four right-leaning groups, to cease all on-campus and off-campus activities and ordered it to stop posting on social media.
The group includes Young Americans for Liberty, Students for Life of America, Turning Point USA and Young Americans for Freedom. A TPUSA blog and the group's introductory Instagram post listed the fifth group as "Young America's Foundation," but the Instagram profile lists SFLA and SFL, which could be "Students for Liberty." Another social media page lists four groups.
The dictate from the university came after an anti-conservative group called LIU Freedom Fighters reportedly reported the group's posts to the administration.
TPUSA reported:
The stories that LIU Freedom Fighters claim crossed a line included a Turning Point USA Instagram post that stated, "On International Women's Day We Honor Real Womanhood," as well as a satirical post that read, "when men pretending to be women celebrate International Women's Day."

Another which caught the attention of the progressive college students was a quote from Daily Wire commentator Matt Walsh, explaining that transgenderism is not a real category because a person can only be male or female. Of course, his claim is entirely accurate. Walsh was not being harsh or hateful towards a group of people in his statement, which leads one to believe that this would fall within the set criteria for the Student Code of Conduct. In fact, "honesty" is the exact word used in the code, but of course, the far-left institution means their truth and their honesty — not objective truth.
The blog from national Turning Point USA said that the Freedom Fighters group "succeeded" in obtaining a suspension, following "consistent complaints."
The group already faced fire from the Brooklyn campus of the school. A Change.org petition from LIU Brooklyn Student Government Association condemned their peers at the Post campus for approving the club – because it supports the national anthem and guns.
"From handing out stickers with statements like 'I stand for the National Anthem' and those of which that support gun ownership, we ask and demand this club's status as an organization to get revoked immediately," the petition from last year stated.
The leftist Freedom Fighters club thanked its followers for helping convince the university to silence opposing viewpoints in the name of "diversity" and "inclusion."
MORE: Stanford Law DEI dean put on leave
IMAGE: American Club/Instagram
Like The College Fix on Facebook / Follow us on Twitter