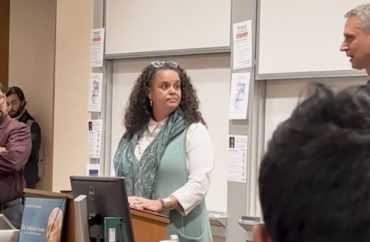 However, the law students will not be punished for disrupting the event, dean says
Stanford Law School has placed its diversity, equity and inclusion dean on leave and will host a mandatory free speech training in the wake of a major cancel culture incident at the school recently during which a federal judge was shouted down and berated by a group of rowdy student demonstrators.
Stanford Law Dean Jenny Martinez distributed on Wednesday a 10-page memo regarding the incident, stating "Enforcement of university policies against disruption of speakers is necessary to ensure the expression of a wide range of viewpoints."
Martinez's statement comes after students at Stanford Law School shouted at and berated U.S. Court of Appeals Judge Kyle Duncan as he attempted to speak at the school at the behest of the Federalist Society earlier this month.
Instead of defending free speech and telling the student demonstrators to allow Duncan to speak, Tirien Steinbach, the diversity, equity and inclusion dean at Stanford Law School, defended the disruptions in a lengthy tirade and questioned whether free speech is "worth the squeeze."
However, Stanford's "disruption policy states that students are not allowed to 'prevent the effective carrying out' of a 'public event' whether by heckling or other forms of interruption," according to campus leaders.
With that, "Steinbach is currently on leave," Martinez wrote in her March 22 memo.
"… [A]t future events, the role of any administrators present will be to ensure that university rules on disruption of events will be followed, and all staff will receive additional training in that regard."
She also wrote that the law school will hold a mandatory half-day session during the spring quarter "for all students on the topic of freedom of speech and the norms of the legal profession."
"A faculty committee will plan the session and invite speakers representing a
range of viewpoints."
However, the law students will not be punished for disrupting the event, Martinez wrote.
"[W]ith respect to the students involved in the protest, several factors lead me to
conclude that what is appropriate here is mandatory educational programming for our
student body rather than referring specific students for disciplinary sanction," she wrote.
"…There were easily a hundred students in the room, however, and some individual students crossed the line into disruptive heckling while others engaged in constitutionally protected non-disruptive protest, such as holding signs or asking pointed questions. Even if we could come up with a fair process for identifying and distinguishing between the two categories of students consistent with First Amendment values, the particular circumstances of this event raise additional concerns."
The Daily Caller reported that Stanford Law School "will also adopt a more clear policy 'with clear protocols for dealing with disruptions' to establish clear speech protections for speakers and protesters."
Martinez, in her memo, called for those who believe Judge Duncan should not have been platformed to think twice about that stance.
"There is temptation to a system in which people holding views perceived by some as harmful or offensive are not allowed to speak, to avoid giving legitimacy to their views or upsetting members of the community, but history teaches us that this is a temptation to be avoided," she wrote.
"I can think of no circumstance in which giving those in authority the right to decide what is and is not acceptable content for speech has ended well. Indeed, the power to suppress speech is often very quickly directed towards suppressing the views of marginalized groups."
MORE: Stanford law students who shouted down judge may be reported to California Bar
VIDEO: Stanford Law DEI dean, rowdy student protesters berate federal judge
IMAGE: social media screenshot
Like The College Fix on Facebook / Follow us on Twitter