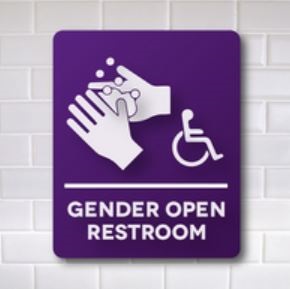 Just the start for a new LGBT coalition across Chicago colleges, sponsor promises
Loyola University Chicago's student government is considering whether to recommend all restrooms on campus be made "gender-neutral."
What's not clear from the sponsor, however, is whether multi-stall restrooms would be open to men, women and trans students for simultaneous use.
It's part of a broader legislative push to remove gender from any campus consideration, including words like "him" and "her" in student government documents or even senate meetings.
Other schools in the region are talking about gender-neutral restrooms as well: Ohio State University earlier this year started letting students request to live on dorm floors with only gender-neutral restrooms, according to The Lantern.
The Loyola student senate discussed the possible creation of a "Gender-Neutral Bathroom Development Ad-Hoc Committee" at its Nov. 4 meeting.
Lucas Fleisher, the senator pushing for gender-neutral restrooms, told The College Fix by email that he wants to ensure all restrooms "are built in a way that makes them a safe space for anyone that wants to use them."
Fleisher said he wants to promote the single-stall restrooms on the Loyola campus that are gender-neutral by definition, as well as "increasing the number of gender-neutral bathrooms on campus."
According to Fleisher, the proposal is intended to "make a marginalized group of students feel more comfortable on campus." But it's not his "ultimate goal" to convert all restrooms: "I'm certain that making all bathrooms gender-neutral would also make students uncomfortable, and that's not what we want."
Fleisher did not respond when asked whether he was advocating that single-sex, multi-stall restrooms become open to all genders, or that such new restrooms be built.
"We will be seeking the majority of our funding from outside sources, so I don't see any negative consequences of gender-neutral bathrooms," Fleisher responded when asked what harm if any could come from gender-neutral restrooms.
Fleisher said he had started a group, the Coalition of Chicago Colleges and Universities, to unite more than 20 student governments at Chicago-area schools to push an LGBT agenda. But he declined to name the student governments involved, saying only that he had "consulted the student body presidents at the CCCU's member institutions about this issue."
The Fix could not find any media mentions about the group or social media presence.
The coalition website "will launch in January," Fleisher said. "We formed in August, and are just starting to build up now."
Stop Saying 'Guys' at Meetings
Continuing the neutralization of gender at the meeting, another Loyola senator, Jackson Santy, proposed to eliminate the use of gendered pronouns in the senate's "articles of governance."
Santy furnished the text of the amendment to The Fix but declined to comment on it, referring questions to the senate's communications officer.
The articles of governance "should, in all instances, employ gender inclusive language in order to fairly and effectively represent the diverse community of Loyola University Chicago undergraduate students," the amendment says.
In places where the articles use grammatically correct pronouns, Santy proposes instead using "they" or "them." The new articles, published in January, forbid the use of non-gender inclusive nouns and pronouns.
The revision of gender pronouns is Santy's latest attempt to enact gender neutrality and LGBT initiatives in the senate.
At the Sept. 16 senate meeting, according to senate minutes, Santy proposed making Safe Space training mandatory for senators. Santy described the training as meant to "establish proper dialogue and [teach students] how to establish a safe, welcoming environment" for LGBT students and other sexual minorities.
According to Loyola's Student Diversity and Multicultural Affairs website, Safe Space staff provide training in "[d]efinitions, terms, and symbols," "LGBTQI identity development," "Skills to interrupt heterosexist and cissexist behaviors and attitudes," and "Resources for the LGBTQI communities."
At the Sept. 23 senate meeting, senators  again discussed Safe Space training and whether to make it mandatory. At the Sept. 30 senate meeting, Santy said: "Although I do completely understand that people don't want to force others to do [training], we were elected to represent every identity of the student body … If we want to represent every student, this should be something that we do."
According to the Oct. 14 senate minutes, Santy objected to the use of "guys" by several senators and encouraged his peers to use "gender neutral terminology."
A former student government official who wrote a thesis on "intersexuality," Sarah "Frankie" Frank, addressed the Oct. 21 senate meeting, according to the minutes.
Frank told senators that their choice was to "let someone be themselves" by using gender-neutral language, or "suppress them because of your own dignified position" by using gender pronouns. She's a Gannon Scholar, part of Loyola's Gannon Center for Women and Leadership, which "educates and fosters women leaders to contribute in the development of a more just social order."
College Fix reporter Matt Lamb is a student at Loyola University-Chicago.
Like The College Fix on Facebook / Follow us on Twitter
IMAGE: Loyola University Chicago