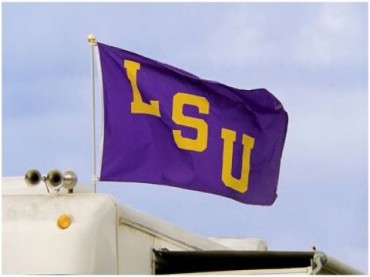 So you can show students porn (for course credit) but not cuss in front of them? This may be another case for the American Association of University Professors to investigate.
A 20-year veteran of Louisiana State University, tenured since 2002, says she "absolutely intends" to sue the school for firing her over vague complaints that she used "profanity or sexist language" in class – comments she believes were "protected by her right to freedom of speech in an academic context," The Daily Reveille reports.
President F. King Alexander made the decision to fire Teresa Buchanan, who taught elementary education, saying she "sexually harassed students and violated the Americans with Disabilities Act" (?).
The case has dragged on for a year and a half, with Buchanan accusing the school of keeping her in the dark and isolating her:
Buchanan first learned of charges against her in December 2013 when, according to her, Human Services and Education Dean Damon Andrew informed her she would not be teaching the following semester because of allegations made against her by a student. For the last 18 months, "my dean would not meet with me and told my chair[person] not to speak with me." Buchanan said. She said was told to "research" but that her superiors were vague and unreachable.
She said she didn't learn of the complaints "until the time of the hearing and therefore did not have a chance to remedy the issues students had with her."
Buchanan's hearing before five administrators resulted in much colleague and student support for her, and a ruling that there were "no grounds for dismissal":
Buchanan said Alexander overruled the committee's decision, a move that breaks with University code and diminishes the basic value of tenure. "This sets a precedent that is just appalling," Buchanan said in an interview, "Tenure does not mean anything to LSU."
The board upheld Alexander's decision last week.
Like The College Fix on Facebook / Follow us on Twitter
IMAGE: Chiceaux Lynch/Flickr
Like The College Fix on Facebook / Follow us on Twitter