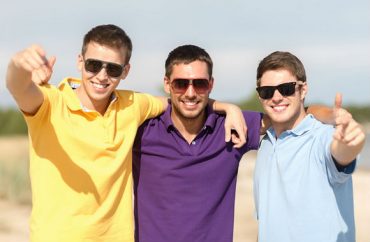 Our fall fundraising campaign runs through Sept. 30, so please consider a tax-deductible donation of any amount to help us continue to publish the best campus news in the nation. Thanks for your support!
Trampling on Rosh Hashanah
We already knew Louisiana State University thinks little of its professors' academic freedom, seeing as it fired one for using coarse language in a class on preparing teachers for urban education.
The public university has now shown its contempt for students' constitutional rights of free speech and freedom of assembly, following the death of a student that may have been related to hazing.
In a "Week of Reflection" sheet distributed among Greek life, LSU banned a host of regular Greek activities, including "new member education" activities, tailgating ("to include but not limited to … any group of 10 or more"), community service, "organized fitness," and chapter events such as "study groups" and "any on/off campus programs."
Two of the few exceptions are meal plans for students who bought Greek house meal plans (how generous) and "risk management workshops."
The Foundation for Individual Rights in Education, which is already sponsoring the fired professor's ongoing lawsuit, says the document was widely circulated, and though the "Week of Reflection" ended Monday, most of the "unconstitutional restrictions … remain in place indefinitely."
Ryne Weiss, assistant to the executive director, writes:
There are a huge number of instances in which such a policy clearly infringes upon freedom of assembly. Considering that Rosh Hashanah — when Jews regularly come together to celebrate — occurred during the Week of Reflection, and LSU is home to the Jewish fraternity Sigma Alpha Mu, some applications of this policy could arguably even violate students' freedom of religion. …

In addition, the ban on "group seating" while wearing chapter insignia, stickers, and buttons is an impermissible restriction on expression — remember, clothing can be symbolic speech.
A revised set of prohibitions was issued Sept. 21, including tailgating (with new regulations to be issued next week). There's a long list of events and activities suspended "until further notice," including seemingly everything designed to build brotherhood and sisterhood between members. Even "assessment workshops" are banned unless they deal with hazing, alcohol, drug or sexual misconduct.
Weiss notes that an LSU spokesperson basically confirmed the taxpayer-funded institution is banning groups of friends from gathering together before games, considering all such groupings "organized tailgates." LSU has refused to comment to FIRE about the prohibitions other than to confirm their authenticity, Weiss says.
LSU has a "red light" rating from FIRE, meaning it has "at least one policy that both clearly and substantially restricts freedom of speech." In LSU's case, it's actually two: sexual harassment of students ("obscene gestures" are banned) and computer user responsibilities ("sexually oriented messages" cannot be accessed or received).
Read the original restrictions, new restrictions and FIRE's post.
MORE: Student op-ed says tailgates are biased against minorities
IMAGE: Syda Productions/Shutterstock
Like The College Fix on Facebook / Follow us on Twitter