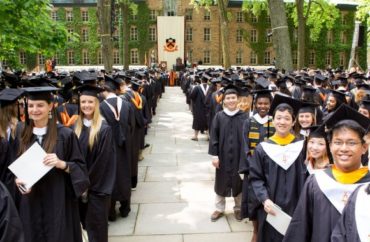 Other findings included a dramatic GPA increase from previous years
A majority of self-described conservative seniors at Princeton University reported feeling uncomfortable "sharing [their] political views on campus," according to this year's annual survey of the graduating class.
Over 64 percent of students who self-identified as "very conservative" were "very uncomfortable" or "somewhat uncomfortable" sharing their political views, according to the survey. Just over 55 percent who called themselves "somewhat conservative" were "very" or "somewhat" uncomfortable.
Nearly 43 percent of students who identified as "moderate" were "very uncomfortable" or "somewhat uncomfortable" sharing their views.
By contrast, less than five percent of students who identified as "very liberal" reported being "very uncomfortable" or "uncomfortable" sharing political views, the survey showed.
The Daily Princetonian, the undergraduate newspaper that administers and publishes the annual senior survey, released this year's results on April 22.
Five hundred and seventy-one students responded to the survey, representing 44.1 percent of the graduating class.
Of the respondents, about a third described themselves as "very liberal," just under a third percent described themselves as "liberal," and just over 17 percent described themselves as "leftist/socialist." By contrast, 9.4 percent described themselves as "conservative" or "very conservative," according to the survey.
The respondents who considered themselves "very conservative" all reported affiliations with either the Jewish or Christian faith.
Seventeen percent of respondents indicated they had become more right-wing during their undergraduate years, compared to nearly half who said they had grown more left-wing politically. Approximately 38 percent said their political persuasions had not changed.
One Princeton junior undergraduate and College Fix contributor had strong words for the political imbalance the survey recorded.
"If, as the Senior Survey's data suggests, Princeton is fostering an environment that facilitates the mere training of ideologues and excludes those with unpopular opinions from full participation in campus discourse, then the University is failing at its most important task," Matthew Wilson wrote in an April 30 op-ed for The Daily Princetonian.
Other data indicated increasing disregard for academic standards
Over 60 percent of respondents held "strongly unfavorable" or "somewhat unfavorable" views of the university's Honor Code. The code requires that students pledge they have not attempted to gain or receive "unfair advantage" during all in-class written examinations, tests and quizzes.
About 25 percent of respondents admitted they had violated the honor code, according to the survey.
Over 50 percent of respondents had "very favorable" or "somewhat favorable" views of grading all senior theses on a Pass-D-Fail basis. At Princeton, almost all seniors must write a senior thesis, the university admissions website states.
"In my thirty-eight years of experience teaching at Princeton, the required senior thesis has never been popular with students," Robert George, the McCormick Professor of Jurisprudence at Princeton, told The College Fix in an email.
"Something magical happens, though, after students complete the thesis, graduate, and go out into the world," George said. "When my former students visit me at their fifth year reunion they say, 'One of the great highlights of my Princeton experience was doing the thesis—it's important that Princeton continue to require it!'"
"I can think of no advantage in moving to Pass-D-Fail assessment," George said. "Students need to be challenged to perform at their best, and they need an accurate assessment of the quality of their work."
Average GPAs went up several points in just a few years
GPAs have risen dramatically, with current seniors reporting an average of 3.7, according to the survey. In contrast, the average senior GPA was 3.46 in 2017-18, according to Princeton Alumni Weekly.
Professor George criticized the grade inflation the survey seemed to reveal.
"Grade compression at the top devalues the achievement of the students who would be at the top even if there were no grade inflation," George wrote to The Fix.
"We on the faculty, and the university itself, are not doing our students a kindness—quite the reverse—when we inflate their grades," George continued. "We are misleading them about themselves."
Princeton alumna Solveig Gold told The Fix "I've heard Princeton professors say that 'academic excellence' is code for white supremacy, so I suppose it's no surprise that standards are slipping."
"Still, the standards have tumbled at an unprecedented rate. Only a few years ago, an A at Princeton meant something!"
Gold was one of two recipients of the Pyne Prize, the highest general distinction awarded to an undergraduate.
MORE: Just 6.4 percent of Harvard's 2022 grads say they're conservative, survey finds
IMAGE: Princeton University
Like The College Fix on Facebook / Follow us on Twitter