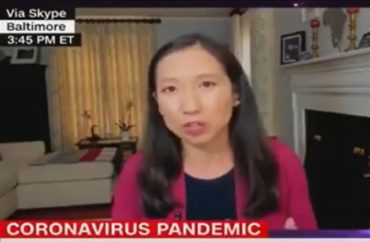 Former Planned Parenthood president said your body is not your choice
A public health professor at George Washington University said that life should be "hard" for people who have chosen not to take a vaccine against COVID-19.
Leana Wen, who has argued that President Joe Biden should mandate vaccine passports, made her comments recently on CNN, where she appears as a medical analyst.
"It needs to be hard for people to remain unvaccinated," Wen said on Saturday. "Right now, it's kind of the opposite."
She wants to put unvaccinated people through mandatory testing at their places of work or at schools.
"Basically, we need to make getting vaccinated the easy choice," Wen said.
She argued last week that President Biden should have used Independence Day as an occasion to argue for freedom only for the vaccinated.
"It's time for Biden to make the case for vaccine requirements," Wen wrote on July 6 at the Washington Post. She is an opinion contributor at the Post, the same publication whose fact-checker previously cited her for repeatedly claiming, without evidence, that thousands of women died from abortion before Roe v. Wade.
The White House's celebration on the Fourth of July "could have been a chance to show that vaccination isn't just an individual decision, but one that affects the health of others — including those already vaccinated."
Wen said:
Biden needs to get behind proof of vaccination, starting with his own White House events. A gathering touting the United States' progress toward independence from the virus should have been the ideal opportunity to make the case for vaccine requirements. It matters for everyone, including the vaccinated.
Prior to taking a job at George Washington University, Wen worked as the president of Planned Parenthood, the nation's largest abortion corporation.
MORE: Vaccine passports are a 'bad idea,' med school professor warns
IMAGE: CNN/YouTube
Like The College Fix on Facebook / Follow us on Twitter