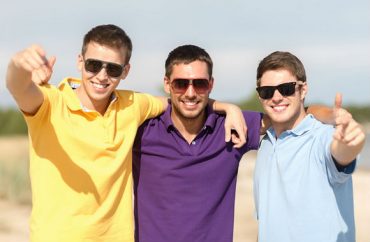 Four all-female dorms remain untouched
Universities seem hellbent on taking away opportunities for men to spend time with just each other, and finally a group of male students is saying no more.
The residents of Texas A&M University's Walton Hall filed a complaint with the university's Title IX office after the administration announced it would make the all-male dorm coed, taking away the last such space for men on campus, The Battalion reports:
The complaint, which was filed on Feb. 1, is based on the fact that, starting in the fall of 2017, there will be four all-female dorms on campus in comparison to no all-male housing. …

Electrical engineering sophomore and Walton Hall Council president Nadir Pozegija said after the announcement, Walton Hall residents began to act quickly, trying to fight for their dorm to remain all-male and open to all years.

"We announced [Walton going co-ed on Jan. 25] — Wednesday  night. Thursday morning we all just started discussing possible actions we could take," Pozegija said.
It makes a mockery of "fairness and equality" to single out male-only spaces for eviction, he said.
University of Michigan-Flint Prof. Mark Perry, whose civil-rights complaint against Michigan State probably convinced the school to open its women-only study lounge to all students, spotted the news.
Texas A&M University Has 4 All-Female Dorms and Now No All-Male Dorms. Male Students File Title IX Complaint https://t.co/PFwp3nSTSc #equal

— Mark J. Perry (@Mark_J_Perry) March 13, 2017
MORE: To protect illegal women-only lounge, hundreds promise to squat
Walton residents have speculated the coed mandate is "punishment for incidences that have taken place over the past year," but the administration claims this was a long-term plan driven by the provost's office, in part to create more freshmen-only spaces.
Said Director of Sustainability Carol Binzer:
We know the research — the national research and Texas A&M research — supports that living on campus, preferably for your first year … gives you a slight edge in GPR and retention and in time to graduation in the four years and not the six years. The data says you'll be more likely to go to graduate or professional school.
Residence Life says its decision is purely driven by "occupancy" – there aren't enough men to justify an all-male dorm anymore, while there's a surplus of women.
The Battalion doesn't say if the university would consider keeping the dorm all-male if it directed male-identifying women, non-binary or genderfluid students to live there.
MORE: MSU has been on notice about the women-only lounge for years
Like The College Fix on Facebook / Follow us on Twitter
IMAGE: Syda Productions/Shutterstock