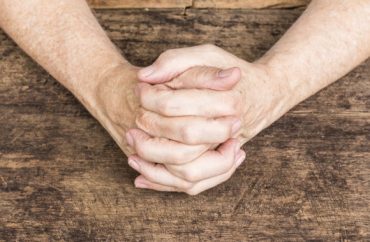 Visiting Clemson University to seek prayer with students has been deemed "solicitation" only allowed in the campus free-speech zone and only after the proper paperwork has been filled out and approved.
It's a policy that's been thrust into the spotlight after a polite but terse confrontation recently between a Clemson grad student, a local man known to pray with students, and a campus official.
On Thursday afternoon, Clemson grad student Kyra Palange walked across campus after class and noticed a man sitting in a folding chair with another chair next to him holding a sign saying "PRAYER."
"I approached him and we sat down to pray for a few minutes," Palange told Young Americans for Freedom, of which she is a member. "When we finished, a man from the university approached us and said he could not be praying there because it was not a 'designated free speech area' and presented the person who [I] was praying with a form for the procedures for applying for 'solicitation' on campus. He told him he had to leave."
WeRoar Clemson, a group of students dedicated to fighting for First Amendment rights on campus, has identified the man as a well-known local "who prays with students in the community."
Palange recorded the tail-end of the incident on her cell phone, a roughly one-minute video that shows Shawn Jones, assistant director for client services, say "with him not being a student or faculty or staff, he has to go through the proper procedures in order to … this is not a designated free speech area."
"And by that you mean there are free speech areas on campus and the entire campus is not a free speech area," Palange said.
"That is right," he said.
Emily Jashinsky, a spokeswoman for Young Americans for Freedom, said in an email Sunday to The College Fix that "referring to a silent offer to pray as 'solicitation' is not fair. It's a very different circumstance than someone coming on campus to solicit, say, a new textbook to students without permission."
"There's an important distinction between a silent offer to pray and commercialized solicitation efforts from external entities," Jashinsky said. "Restrictions on reasonable speech in any capacity are always cause for concern, especially on a college campus where the whole community should do its best to foster a productive and challenging atmosphere for our students."
'Inviting people to pray a solicitation to join a gathering'
Clemson University spokesman Mark Land said in an email to The College Fix on Sunday that "the community member in this situation was not asked to leave campus nor was his prayer with one of our students interrupted."
"The university welcomes community members to our campus and has no issue whatsoever with individuals quietly praying on campus. Many members of the Clemson family pray regularly on our campus without incident," Land said.
But individuals or groups not affiliated with the university are asked to register their activity so it can be directed to "an appropriate location, such as one of the university's designated free speech zones," Land told The Fix, adding "individuals and groups affiliated with the university are not limited to free speech zones when they wish to exercise their rights to expression."
However, "in this case, the community member had posted a sign inviting people to pray with him constituting, in the university's view, a solicitation to join a gathering," Land said. "As such, one of our administrative staff members politely informed the individual of the process for obtaining approval to hold such a gathering."
Land said the man has already taken steps to return to campus "to offer similar prayer services, and the university looks forward to welcoming him back to campus."
But WeRoar Clemson stated they disagree with the policy, and find it "unconstitutional."
"Free Speech zones were ended at Clemson in 2006 for students, but this policy remains in effect for non-students," the group stated on Facebook. "Clemson University is a public university that receives taxpayer funds, therefore it must comply fully with the law of the land, the First Amendment of the United States Constitution. Clemson has failed its duty to uphold constitutional liberty."
MORE: Student — Clemson let white students be tarred and feathered for hate-crime they knew was hoax
Like The College Fix on Facebook / Follow us on Twitter
IMAGE: Shutterstock