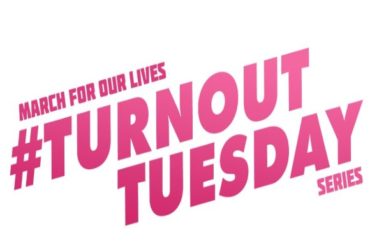 The student-run organization March For Our Lives is targeting college students, visiting campuses nationwide and urging young people to register to the vote and take part in the upcoming November midterm elections.
"March For Our Lives" is the student-run organization led by David Hogg and other anti-gun activists.
Recently the group has pivoted from hosting events at libraries and community centers to appearing at campuses, urging students to support politicians who back stricter gun laws, among other causes in a "Vote For Our Lives" campaign.
Campus efforts include tailgating parties, concerts, BBQs, book signings, Get Out The Vote rallies, campus chalkings, and "dorm storms," during which volunteers swarm dorms and knock on doors, urging students to register and vote.
The organization's website also offers a register to vote platform and tells visitors "voter registration time takes an average of two minutes or less to complete."
It also boasts a #TurnoutTuesday campaign that works to harness social media and grassroots efforts to encourage its followers "to elect morally just leaders on all levels of government."
So many beautiful pieces created today for #GetArtTheVote 🎨

Get ready for next week's @Turnout_Tuesday initiative — Candidate Town Halls!

3 weeks to go! #VOTE 🇺🇸✊🏽🗳 pic.twitter.com/BW703w3PQF

— March For Our Lives (@AMarch4OurLives) October 17, 2018
The effort has attracted support from celebrities such as Ariana Grande, who directed her fans to the March For Our Lives' website to register to vote. In one instance, so many fans recently went to the website that it crashed the site for a while.
One book touted during campus visits is the recently published "Glimmer of Hope: How Tragedy Sparked a Movement," authored by students in the organization. It was released this week.
March For Our Lives has also partnered with several other youth organizations for the "Walkout to Vote" scheduled for Election Day next month.
"Students across the country will walk out of school or work to their local polling place," organizers stated. "#WalkoutToVote is a collective action that will bring together the entire youth movement to go vote on election day."
MORE: In campus speech, David Hogg says U.S. is stolen land, justifies illegal immigration
March For Our Lives did not respond to a request from The College Fix seeking comment, but the organization's political efforts have prompted mixed reviews from observers.
In an exclusive phone interview with The College Fix, Hunter Pollack, a sophomore at Florida State University and brother to Meadow Pollack, who died in the Parkland shooting, said that organizers at March For Our Lives, while maybe "well intentioned in the first two months, now seem more concerned about selling books and making careers out of this rather than finding solutions."
"I think they should be ashamed of themselves," said Pollack, adding he is upset the murder of his sister and others is being used as a political tool.
"The book tour is a scam and fake…they are not compromising on helping to make changes like fixing the school board." Pollack explained that unlike the student organizers, his family and other families are working to make compromises, lobby legislators, and pass legislation to "#FixIt." Examples included a gun safety bill, SB 7026, which raised the age to purchase a firearm in Florida, according to Pollack.
Pollack has been working along with his father, and other Parkland victims' families, toward a goal of preventing future school shootings in the country. To that end, Pollack told The College Fix that conservative groups on campus must "step up and do something rather than meeting merely being social clubs … work to elect accountable people to serve."
The chairman of the University of Southern Florida College Republicans, Bob Camel, said that while he appreciates March for Our Lives getting people to register to vote, "I start having a problem if they use it as a way to start pushing propaganda."
Nicholas John, a student at the University of Minnesota who writes for the right-of-center Minnesota Republic, said he believes that clearly "organizations like March for Our Lives are targeting college campuses" due to the fact that young people tend to vote more for Democrats.
John also told The College Fix that he's "heard left leaning student orgs jokingly say 'register to vote unless you're a republican. Then stay home.'"
"It's appalling to me that left leaning students will even jokingly suggest that people of differing political opinions shouldn't vote," John said.
March For Our Lives fall tour includes stops at University of Minnesota, Florida International University, Georgia State, UNC Greensboro, North Carolina A&T State University, Bennett College, Guilford College, University of South Florida, Florida A&M, University of Florida, University of North Florida, University of Central Florida, University of Texas, University of Houston, Arizona State, UC Irvine, and California State Fullerton.
MORE: In campus speech, David Hogg says U.S. is stolen land, justifies illegal immigration
MORE: On heels of March for Our Lives, College Republicans host pro-2nd Amendment events
Like The College Fix on Facebook / Follow us on Twitter