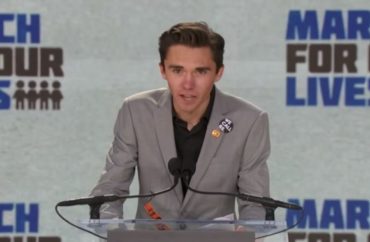 Parkland shooting survivor also calls for gun control at UMass Dartmouth
DARTMOUTH, Mass. — Anti-gun rights activist David Hogg often urges young people to take on the Second Amendment. But he's picked up a few more topics to pontificate on recently.
In his latest talk Wednesday to students at University of Massachusetts, Dartmouth, with the midterm elections just weeks away, Hogg defended illegal immigrants, decried white politicians, and bemoaned American imperialism.
"I'm gonna talk to you guys not about the America we want to create, but the America we are going to create," Hogg told the crowd, a mix of approximately 160 local high school students, UMass college students, administrators and the general public.
"Our generation has the ability to go out there this November, and every single election, to go out there and make America the country it is on paper, because it's not," he said.
His speech came at the same time as March For Our Lives is targeting college students in a massive voter-turnout effort.
"We have to create a country where you don't feel the need to arm yourself because you're afraid that somebody's going to attack you when you're walking home late at night," Hogg said. "We're going to create a country where we aren't living in constant fear because we're afraid we're going to be kidnapped or women are constantly living in fear because they're constantly cat-called."
Hogg's critics often accuse him as being a tyrant-in-training, to which he replied, "the root of hate, when we're talking with protestors that are shouting our names and saying that we're gun-grabbing commies. First off, we're not. The things that we advocate are public safety. Gun violence is a public health issue. We are not pro-gun or anti-gun, what we are is anti-people dying."
Broadening the discussion from anti-gun violence, Hogg urged students to pick up the mantle of progressive causes in the name of social justice.
"Being a cisgender white male," said Hogg, "I don't know what it's like to be in the majority of Americans that are affected by gun violence, which is primarily women of color, but I can be an ally with them and tell their story when we march through the different parts of Chicago."
According to Hogg, his movement, the March for Our Lives, extends not just to minority populations, but to illegal immigrants as well.
"The people that we're advocating for, that we're fighting for, are the people you don't see on this stage. The people we're advocating and fighting for are the over 10 million undocumented people that live in this country and are disproportionately affected by gun violence, who are so afraid they're going to be deported that the crime goes unreported," he said.
Offering an American guilt complex as the moral justification for illegal immigration, Hogg reiterated the popular progressive notion of the evils of colonization.
"Mass shootings have been happening for the last couple of centuries, ever since the advent of the gun. If we want to talk about mass shootings one of the first things we have to acknowledge is the battle of Wounded Knee, where over 100 Native Americans were slaughtered by the United States government," he told the students. "We also have to acknowledge the fact that disproportionately Native Americans are underrepresented in our government and we also have to acknowledge how wrong it is that we call people illegal on stolen land."
Framing the struggle for gun control as class warfare between wealthy gun lobbies and the poor, Hogg asked the question, "Who's actually representing us? Is it CEOs and Fortune 500 companies, or is it the American people?"
Earlier Hogg stated, "our politicians quite frankly do not care about us dying in schools, they don't care about us dying in our communities when their campaigns are funded by millions of dollars from gun manufacturers."
Hogg ended his speech saying, "Right now the fact that Congress is mostly white and male, doesn't look representative to me."
The talk was titled "Engaging Student Voices: A Focus on Voting, Gun Control, and Anti-Violence" and it was hosted by the university's Leduc Center for Civic Engagement.
Since the shooting, Hogg has gone on to international prominence as a gun control activist, including becoming a New York Times best-selling author for his book "#NeverAgain" recounting the experience. He visited the Massachusetts campus with a peer who had also attended Marjory Stoneman Douglas High School, Jaclyn Corin, and she told the students about her experience during the massacre.
Several students addressed the activists during the Q&A, saying they respected that they came for their age, but that they disagreed with their political positions.
"I respect you guys a lot for doing this, but I thought that shouldn't we be thinking about what politicians have to say rather than what they identify as? Whether they're women or gay or black or something like that," said Alyssa, a high schooler attending the event.
Another student asked plainly, "How can we do a background check on an illegal immigrant if they're not registered with the U.S. government?"
One student accused Hogg of engaging in dangerous polarizing rhetoric, to which Hogg and Corbin both deflected.
At the end of the question and answer period, Anita Garcia, a woman local to the area, came up to the stage, accusing Hogg of being a paid crisis actor. Holding up her phone, Garcia offered to show a snapchat video of Hogg allegedly confirming this to the audience. Booed by the audience, she stormed out.
In the video, a male student complains Hogg shouldn't be his debate partner because he is actually 25-years-old and from California, not Parkland, Florida. Hogg looks into the camera and says "shocking" before it abruptly cuts off. The video has widely been discredited as a hoax.
MORE: March For Our Lives targets college students in massive voter-turnout effort
IMAGE: YouTube screenshot
Like The College Fix on Facebook / Follow us on Twitter