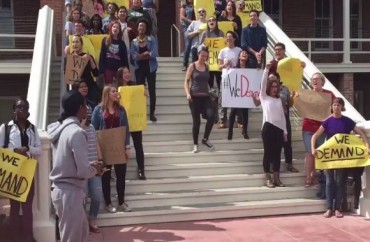 Students demand results or they'll 'mobilize'
A group calling itself the Marginalized Students of the University of Arizona has sent a 19-page list of demands to administrators that calls on officials to provide numerous concessions meant to address the alleged systemic racism that plagues the campus.
The demands, published Tuesday, include calls for mandatory culture competency classes, racial quotas in hiring and admissions, and $35,000 for each cultural campus organization.
More specifically, Latino students have also demanded financial aid for undocumented students, and told the university to cut ties with U.S Customs and Border Protection, which recruits at campus job fairs, saying their presence "promotes a hostile environment."
Meanwhile, the African American students have demanded, among other things: deferred housing fees; a published list of consequences for students and faculty who utter a microaggression or "hate speech" – whether on campus or online; and a 40 percent increase in the representation of black people in university marketing materials.
Moreover, black students want a racially segregated area on campus, calling for "African American Student Affairs [to] return as the only occupants of the Martin Luther King Jr. Building starting no later than Fall 2017."
Similarly, the Asian Pacific Student Affairs group has demanded "a residence hall wing for Asian American Pacific Islander students." And the Native American Student Affairs group wants their own house on campus for social and spiritual needs.
RELATED: Black students demand segregated spaces from white students
Also getting in on the action is the LGBTQ Resource Center, which demanded the creation of a policy requiring professors use students' preferred gender pronouns and a classroom acknowledgment of students' various identities. The group also wants the inclusion of "LGBTQIA" material in STEM courses, more gender-neutral bathrooms, and free tampons, condoms and dental dams.
#WeDemand #MSUA pic.twitter.com/6HCa2DP5my

— Symone Gittens (@Symonedashe) March 8, 2016
Moreover, the Women's Resource Center demanded more sexual consent training and a victim advocacy program.
The 19-page list of demands came in response to what the Marginalized Students of the University of Arizona called a failure in campus leaders to acknowledge and address the concerns and experiences of marginalized students.
Without giving specific examples of discrimination, the letter complains that during a meeting with various stakeholder groups, UA President Ann Weaver Hart only allotted each of them 30 minutes to voice their concerns about the discrimination they allegedly face daily, and that only resulted in them feeling they were "pitted against" each other.
"During her own tour, President Ann Weaver Hart only afforded each group thirty minutes to speak to her about the tremendous amount of discrimination our students face and the consequences these interactions have on our college experience," the letter states. "Each group felt their experiences were dismissed, that we were pitted against other students, and that asking for a safer campus and more resources was 'too much.' This tone and attitude reflects the approach we see being taken by those who feign their dedication to us."
Asked by a College Fix student reporter on Facebook for clarification on the demand letter, one University of Arizona student replied: "You'll never understand a marginalized students experience unless you are one, have experienced these things, or surround yourself with other individuals who have."
The student went on to cite instances of hiring discrimination, students using racial slurs and generally being made to feel unwelcome.
But some students found the vagueness of the letter to be problematic.
UA student and member of the Asian Pacific community, a listed marginalized group, Alexandra Mast said she doesn't feel marginalized because they as a group "have plenty of opportunity to meet others and organize activities among ourselves."
The 19-page list of demands consists of programs that would cost the university a significant amount of money, but the letter fails to address how that money would be raised.
Regardless, the letter states "it is important to note that these are demands, not simply requests or suggestions. These represent thoughtful, meaningful reforms that are necessary in order to affirm the expectation of safety and real life equity."
The letter adds that failure to meet the demands would result in mobilization of current students and alumni, and the promise to inform incoming and potential students of the "problematic climate that is perpetuated on this campus."
"Should these demands not be met or properly negotiated to our standards," the letter states, "we will mobilize our students."
RELATED: Latino students at Duke refuse to recruit more Latinos until its laundry list of demands is met
Like The College Fix on Facebook / Follow us on Twitter
Main image – Twitter screenshot; Inside – Shutterstock