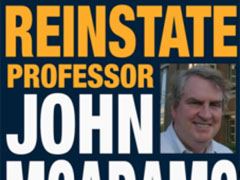 Marquette University's John McAdams, who outed a younger colleague for muzzling one of her students because of his views against gay marriage, is getting unexpected criticism – from the conservative religion journal First Things.
Nobody comes out of the kerfuffle looking good, wrote Matthew Francke, president of the James Madison Program at Princeton: The student didn't ask permission before recording graduate teaching instructor Cheryl Abbate and she in turn closed off debate on a subject relevant to her ethics class.
McAdams showed poor judgment as well, Francke writes, because he named Abbate without giving her much time to respond:
This might have been appropriate in the case of a notorious, irreformable, blowhard ideologue in the tenured faculty ranks (haven't we all known those guys?), but not, I think, in the case of a young grad student still learning how to teach. He should instead have reacted to the undergrad student's story by approaching the philosophy department chairman, or the director of graduate studies, or the teaching assistant's mentor if known to him, or (very gently) the teaching assistant herself. The point is to make poor teachers better ones, not to throw others on the defensive about matters they feel strongly about.
The department chairmen defending Abbate are even more boneheaded, Francke continues, and the "nadir of stupidity" was the dean suspending McAdams without due process, and now "It's lawsuit time!"
Time for someone—a provost, a president? (I know, now we're in the stratosphere of stupidity)—to break the cycle, to say "stand down" to everyone involved, to un-suspend McAdams, to recommend remedial pedagogical advising for teaching assistants, and to reassert the freedom of Catholic opinions at a Catholic university, even on the part of lowly undergraduates. That would be a start.
Like The College Fix on Facebook / Follow us on Twitter
IMAGE: Turning Point USA