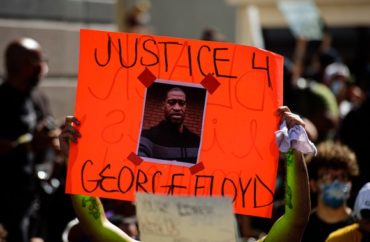 No policy violation cited
Is this surprising coming from a private college that tried to fire a tenured conservative professor for criticizing a liberal colleague?
Marquette University has revoked admission to a student who compared George Floyd's death after a police officer kneeled on his neck for several minutes to people who kneel in protest during the national anthem.
WTMJ-TV reports that the student was a scholarship recruit for the women's lacrosse team. In a Snapchat post, she wrote "some ppl think it's ok to fucking kneel during the national anthem so it's ok to kneel on someone's head. come at me. y'all brainwashed. kinda disgusting lowkey."
Following mob pressure to ban her from the university, the Jesuit institution caved. It did not say what university policy she violated: "We are called to build a nurturing, inclusive community where all people feel safe, supported, welcomed and celebrated."
A subsequent statement only referred to the university's Guiding Values, which do not mention any student obligations:
Following an internal review involving the Division of Student Affairs, Undergraduate Admissions, Office of Institutional Diversity and Inclusion, and Intercollegiate Athletics, and in alignment with our Guiding Values, Marquette University has made the decision to rescind the incoming student's offer of admission and athletics scholarship, effective immediately.
The Marquette Wire student newspaper reported that the recruit is white. (She has been named in social media.) It said a student complained to Xavier Cole, vice president of student affairs, whose response suggests the lacrosse recruit was punished for her viewpoint, not a policy violation:
You will find at University, you will encounter many differing viewpoints and opinions. Some offensive. Some right our [sic] morally and ethically wrong. This post falls in the latter category. We will proceed with this student to educate her about who and what we are as a Jesuit, Catholic institution, and we will hold her accountable for the harm this post has caused many. Thank you for bringing this to my attention.
MORE: State Supreme Court bars Marquette from firing conservative professor
The university was facing criticism from students and alumni for its purportedly weak response to the death of Floyd when it announced the lacrosse recruit would be banned from attending, the Wire notes.
President Michael Lovell sent a campuswide email Saturday saying Marquette would work to "stop this cycle of violence" by addressing "the root causes of disparity and access in our community and nationwide" – through its "research, scholarship, service learning and, above all, the way we educate our students to be men and women for and with others."
Anusha Das, a new alum who worked to increase nonwhite students in honors admissions, told the campus newspaper that Lovell's statement was "an empty, hollow response that shows that Marquette is not responsible and they're just participating in a very performative way. … Seeing that email really made me feel like the work that I did was, in a way, undone and that nothing had really changed systemically."
Marquette may be inviting litigation by revoking admissions to an accepted student based on her expressed viewpoint.
The Wisconsin Supreme Court blocked its attempt to fire Prof. John McAdams after he criticized a colleague by name in a blog post, saying the private school violated its contract with him. President Lovell had previously ordered McAdams to apologize as a condition of keeping his tenured position.
The College Fix has asked Marquette to provide any policy that the student allegedly violated and explain how its action against her does not amount to breach of contract, as did its attempt to fire McAdams.
Read the WTMJ and Wire reports.
MORE: Student told he can't disagree with gay marriage – 'everyone agrees on' it
IMAGE: Expensive/Shutterstock
Like The College Fix on Facebook / Follow us on Twitter