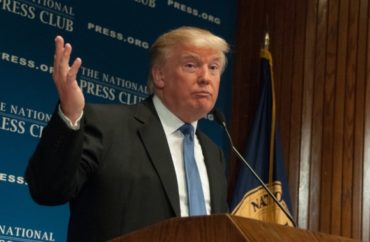 Parents of students at a Baltimore County, Maryland high school are irate at a slide that was shown in a history class last Wednesday.
A teacher at Towson's Loch Raven High School showed a slide depicting President Trump, and below him were a swastika and hammer a sickle, representing Nazism and communism respectively.
Above Mr. Trump were the words "Wants to round up a group of people and build a giant wall." Under the swastika was "been there," while under the hammer and sickle was "done that."
Off to the side was the exclamation "Oh, THAT is why it sounds so familiar!"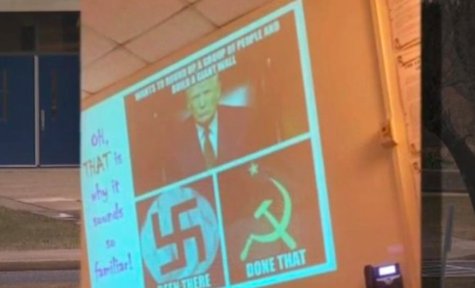 According to FOX-45, a student said the lesson was about "world leaders shunning other groups out." Parents want to know if the slide was part of an actual lesson, or an instance of a teacher pushing his/her political ideology on a captive class.
Baltimore County councilman Wade Kach, who represents the area in which Loch Raven HS is located, said that "to even imply that our president is in any way a Nazi or a communist is outrageous." Dubbing the slide "irresponsible," Kach wants to know precisely where it came from.
In a statement, a spokesperson for the Baltimore County Public Schools said
This slide was used as part of a lesson in an AP History course. The topics being discussed included World Wars and the attempts by some leaders to limit, or prevent migration, into certain countries. In isolation and out of context with the lesson, the image could be misunderstood. In our Advanced Placement (AP) classes, which are college level courses, we expect and encourage analysis and discussion around historical and current events even if they are considered controversial. This lesson was not intended to make a political statement. If a student has concerns when discussing a controversial issue, schools have the tools to address the concern and support the student.
ABC News reports the district's Charles Herndon said AP students are "discerning, intelligent students who are going to be able to draw their own inferences and draw their own conclusions."
FOX-45 says it was told the history teacher did not create the slide, but (the station) was not informed if the slide is an actual part of the curriculum.
Towson University professor Richard Vatz said the slide's image is fine "if the context is acceptable." But he has issues with the district's explanation:
"If they're not presenting that as clear, outrageous argument against the president of the United States, then they're not doing their job. It's really contemptible. But I want to say it's conceivable the teachers are doing a better job than has been communicated to you."
MORE: Texas State U. prof accused of bashing President Trump in film course
MORE: Nearly 50% of GOP students say they've had a prof go on anti-Trump tangent
IMAGES: Albert H. Teich / Shutterstock.com, Twitter screenshot
Like The College Fix on Facebook / Follow us on Twitter