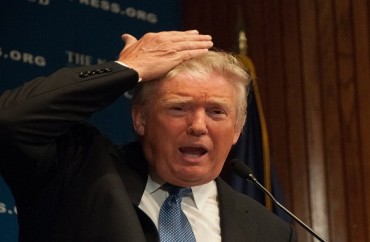 Audio recording of discussion may violate school's Code of Conduct.
A Texas State University English professor has been accused by the Texas College Republicans of promoting anti-Trump propaganda in the classroom.
Rebecca Bell-Metereau showed the Spike Lee film BlacKkKlansman in her Introduction to Film class last month, and a subsequent quiz featured a question which asked "What is true about 'America First' slogan in the film and present day?"
One of the answers: "President Trump('s) slogan is KKK principle."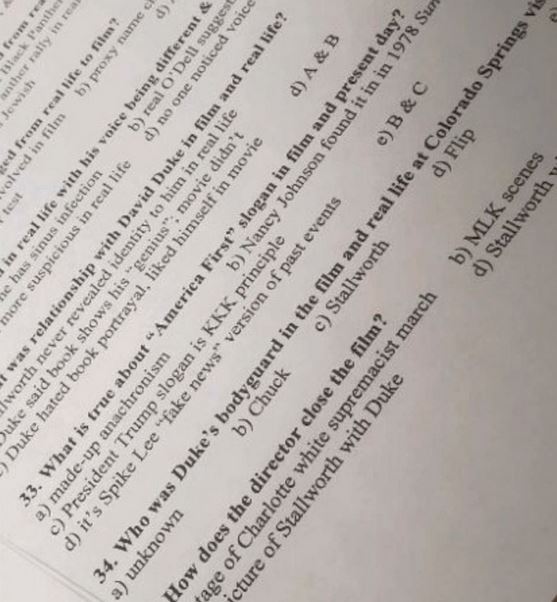 According to The University Star, the Texas College Republicans tweeted out a photo of the question, but more controversially, an audio recording of an exchange between a student and the professor.
In that back-and-forth, the student asks about a scene in the film where President Trump and former KKK Grand Wizard David Duke are shown together.
Bell-Metereau tells the student "There was never any distancing from white power," referring to Trump and Trump advisor  Stephen Miller, who allegedly has shared white nationalist and racist articles.
At the end of the recording Bell-Metereau says "We have a problem in the White House."
UPDATE:

Students in Anti-Trump Professor Rebecca Bell-Metereau's class at @TXST made this recording of the Professor claiming:

– Trump "never did any distancing from white power"
– "We have a problem" in the White House

Unacceptable! pic.twitter.com/PQvpI15hCA

— Texas College Republicans (@txfcr) November 21, 2019
The recording may have violated the university's Code of Conduct which prohibits "photographing and recording during classes, and from transmitting classroom lectures, instructor materials, and discussions by students unless written permission from the class instructor …"
College Republicans President Brett Bailey said he "has not been made aware" of any such violations.
Bell-Metereau said the objective of the quiz was to have students discern what was historically accurate from the film and what the director doctored for cinematic purposes.

"The quiz was designed to have (students) look at which parts of the film were true at the time and which parts of the film Spike Lee changed or fictionalized to make the film more dramatic," Bell-Metereau said. "The questions were about what Spike Lee was doing and what his rationale was."

Bell-Metereau said the answer to the quiz question—which she supplied students via email—could be found in a PolitiFact article referring to the "America First" chants used by the KKK in Spike Lee's film as an accurate historical reflection.

"This quiz is simply based on the information from PolitiFact to see if they could read an article and understand what it is saying," Bell-Metereau said. "All I want them to do (is) be able to use fact-checking sources to determine for themselves what is true and what is not true in a film that is a biopic."
Bell-Metereau, whose publications include Transgender Cinema, Hollywood Androgyn and Star Bodies and the Erotics of Suffering, said she'd like to discuss the matter further with the student who took the quiz photo.
"I generally don't express a whole lot of opinions," she said. "Sometimes teachers go beyond that and try to influence students a certain way, and I think that's wrong.
"I am definitely not trying to brainwash anybody or make them feel forced to think a certain thing."
MORE: Prof asks on final exam: "Is Trump the Anti-Christ?"
MORE: 50% of GOP students say they've had a prof go on anti-Trump tangent
IMAGES: Shutterstock.com, Twitter
Like The College Fix on Facebook / Follow us on Twitter