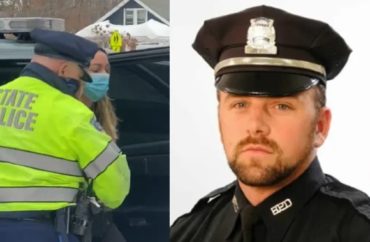 Allegedly left him for dead in a snowbank
Bentley University adjunct finance instructor Karen Read has been charged with manslaughter in the death of her police officer boyfriend.
Police charged the finance lecturer with "manslaughter, leaving the scene of a motor vehicle collision causing death, and motor vehicle homicide," according to a statement from the Norfolk District Attorney's Office.
She allegedly dropped her boyfriend, John O'Keefe (right), off at his home on Saturday after the pair were drinking and she hit him with her car. She said she did not know she hit him.
#HAPPENINGNOW: The woman who's been arrested and charged in connection with the death of Boston Police Officer John O'Keefe has arrived at Stoughton District Court. 41-year-old Karen Read is set to be arraigned on several charges including manslaughter #7News pic.twitter.com/LZBUkFcI5P

— Juliana Mazza (@julianamazzatv) February 2, 2022
O'Keefe worked as a police officer for the city of Boston. He was found outside in the freezing cold and apparently had been there for a few hours. Medical professionals declared him dead after he was taken to the hospital.
The next hearing will take place on March 1 according to Patch. There are no details in the Massachusetts' court system for her case.
Bentley University said it has reassigned Read's course to another instructor.
"By now you may have seen or heard the news involving a member of our community and the death of a Boston police officer," Donna Maria Blancero, vice president for academic affairs, said in a statement. "Karen Read is an adjunct lecturer at Bentley. The university cannot comment on an active investigation, but we are aware of the evolving situation and following it closely," the Patch reported.
The Boston Police Department mourned O'Keefe's death.
"The Boston Police Department continues to grieve over the tragic loss of our brother Police Officer John O'Keefe," 7 News Boston reported. "John was a kind person, dedicated to his family, and will be greatly missed by his coworkers and anyone who had the privilege of meeting him."
MORE: Georgia criminal justice professor charged with shoplifting
IMAGE: 7 News/Twitter; Boston Police
Like The College Fix on Facebook / Follow us on Twitter