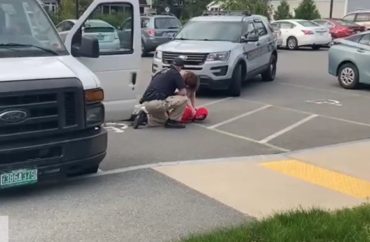 UPDATED
Student said she tried to apply for a medical exemption
Smith College in Massachusetts has expelled a student for repeatedly refusing to wear a mask and trespassing on campus.
The private liberal arts college arrested her for trespassing, though the student told The College Fix through a series of emails in the past month that she applied for a medical exemption from the requirement and only returned to campus to retrieve her possessions. The student has a hearing on November 1 in a Massachusetts county court, according to documents obtained through a public records request.
"I had asked Smith for an exemption to the mask rule not long after they implemented it due to documented issues on file with the health center and the Office of Disability Services," Morgan Mack said via email. However, the university rejected the application and said "there would be no mask exemptions whatsoever." The Fix reviewed, after publication of this article, documents which show Mack has a recognized disability and has been granted accommodations in the past.
The College Fix reviewed disciplinary documents that indicated Mack had been denied an exemption request. Mack said she has a history of seizures and wanted to be excused from the face-covering mandate.
Media relations director Stacey Schmeidel disputed Mack's claims via several emails with The Fix.
The exemption request process "requires an individual to submit an accommodation request, supported by medical documentation, to the Office of Disability Services," Schmeidel said in an email on October 15.
"The student in question," Schmeidel said, "was notified of this process, but they did not submit the required documentation."
"A Smith College student was arrested for repeatedly and knowingly violating a college trespass order, after failing to comply with the college's COVID safety protocols," Schmeidel told The Fix in an October 3 email, confirming the reasons for Mack's arrest.
Multiple administrators named by Mack in the controversy deferred to Schmeidel for comment.
Mack said few people seemed bothered by bare face
"When I returned to Smith I was reported by a couple of admins/faculty over not wearing a mask, Mack told The College Fix. "Strangely despite going to a number of classes, dorms, and dining halls maskless, not a single student ever asked me even once to put on a mask. Neither did any dining or cleaning staff," she said in her email.
Associate Director of Student Engagement Mike Makoski called campus police on Mack, which prompted a meeting with the Student Affairs office.
Makoski deferred to the media relations team when asked for comment. The Fix asked Makoski about the accuracy of the accusation and if he had any comment.
The associate dean of students told Mack she did not have an approved exemption.
"I had a single meeting [on September 9] with another Smith admin, Becky Shaw, over not masking. I was again told that there would be no exemptions to the mask rule whatsoever, even though I had documented reasons on file with ODS (Office of Disability Services) that I could not wear one," Mack said. Shaw is also the director of resident life.
MORE: Check out our new cancel culture database
At the meeting, Shaw told Mack that she would be suspended for noncompliance and deactivated her student ID card, which she needed to enter campus buildings. Immediately after receiving her suspension, Mack went on a hunger strike, she said.
Shaw did not respond to requests for comment directed toward the student affairs department on October 7 and October 14. The Fix asked Shaw about whether Mack's accusation was true and whether she believed what happened to Mack was appropriate.
Mack was given entry to her residence hall that night but was unable to enter her room the next morning. She was locked out of her dorm room and met by Associated Director of Residence Life Hannah Durrant, along with multiple campus police officers. Campus police later arrested her.
The College Fix reached Durrant by phone on October 7, but she immediately deferred to the media relations team before any questions could be asked.
After being bailed out of jail by a friend, in whose dorm she stayed that night. The following morning, September 11, campus police came to the door and told Mack to leave. The university agreed to put her in a hotel until her disciplinary process was complete.
Mack, who was on hunger strike, wanted to expedite the process. In order to do so, she needed to retrieve her laptop, which was still in her car on campus. When she went to her car to get her belongings on September 12, she found Interim Director of Campus Safety Debra Duncan waiting there with multiple campus police officers.
Video provided to The College Fix by Mack shows Duncan holding her down on the pavement, with Mack complaining that she was dehydrated and was having a seizure.
The video does not clearly show Mack having a seizure. She provided The Fix with medical documentation that confirms she has been diagnosed and has a history of seizures.
Duncan did not respond to The Fix's requests for comment on October 7 and October 14 asking about the extent of her involvement in the arrests and her opinion on the appropriateness of the arrests.
MORE: UMass freshmen suspended for not wearing masks off-campus
Editor's note: The article has been updated to reflect that Mack has provided The Fix with documents from her doctors that confirm her diagnoses and documentation confirming she has previously received an accommodation for a disability.
IMAGE: Morgan Mack
Like The College Fix on Facebook / Follow us on Twitter