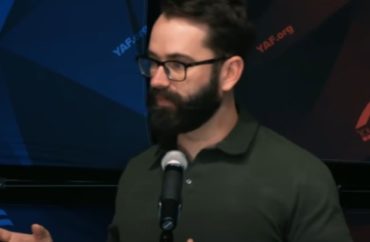 Highlighted the victims of gender theory
Conservative commentator Matt Walsh criticized the "delusions of gender" and explained the sordid history behind the transgender ideology movement during an in-person speech at University of Texas at Austin on April 24.
"Anyone who propagates left-wing gender theory is parroting at least some of John Money's ideas," the Daily Wire host said. The Johns Hopkins doctor is considered one of the first advocates of gender ideology, including with experiments that began in the 1960s.
Walsh's speech, hosted by the Young America's Foundation and the campus chapter of Young Conservatives of Texas, delved into the history of gender ideology movement.
Money was "a fraud, lunatic and pedophile." Walsh quoted a Salon article that said the doctor was "ambivalently supportive of pedophilia." For example, Money believed that children and adults could be in sexual relationships with each other.
Money coined a number of terms used by proponents of gender ideology, including the term "gender identity." He performed experiments on twin boys after a doctor accidentally severed the genitalia of one of the boys, Bruce.
Bruce and Brian Reimer could be considered the first victims of modern-day gender theory, Walsh said.
The Johns Hopkins doctor, sought out by the parents of the twin boys, had Bruce go through a reassignment surgery and told his parents to raise him as a girl, before his second birthday.
He tried to use this to "prove" that gender is a social construct.
The results were horrendous.
Bruce acted like a boy and had "boyish tendencies" Walsh said, despite being raised as a girl. Money regularly gave "therapy sessions" with the boys, that in reality included nudity and simulated sex acts with each other.
Money's theories "were not a success" Walsh said.
Bruce chose to transition back to a boy and had "another reassignment surgery" Walsh said.
The twins, who Walsh explained were used as "lab rats" by Money, both died due to Money's actions.
Brian died of an overdose at 36. Two years later, Bruce, who renamed himself David, shot himself.
"Their deaths will go down in history as suicides but the reality is that they were murdered by Dr. John Money. The 'Father of Modern Gender Theory," the Daily Wire commentator said.
Money's poison continues
"These ideas," Walsh said, continue to persevere as "gospel truth" Walsh said.
Money started society down the path of gender ideology.
It's why, Walsh explained, parents go on social media to boast about their kids thinking they are transgender.
He told the story of a man who put on Twitter how he and his wife erroneously believed their son was a girl. Walsh critiqued the argument. "If your identity needs to be constantly reinforced and protected by other people, there's a problem."
Walsh said that it is normal for a boy to say he wants to be a girl, or for a girl to say she wants to be a boy. They don't even understand what that means, but parents just take their word for it without questioning them.
Walsh said that the argument has flipped from "A man can identify as a woman still isn't a woman" to "A man can identify as a woman and is a biological woman."
He continued to say that the liberals have no clear definition of what a woman is because their view of women is interchanging.
"It doesn't seem possible to formulate a variation of women that ignores biology while still allowing women to remain in an objective, unique and discernable category," Walsh said. "It's not possible because leftist gender theory is an incoherent, destructive, delusional, insane, stupid mess."
He also told his audience how these views are affecting our children. "A Gallup survey from last month shows the number of trans identifying people in Gen Z is 10 times higher than older generations," Walsh said.
Walsh predicted the numbers will only rise.
MORE: Yale students host authors canceled for writing critically of trans ideology
IMAGE: YAF/YouTube
Like The College Fix on Facebook / Follow us on Twitter